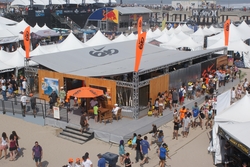 Los Angeles, CA (PRWEB) April 12, 2010
BeCore Promotions, an innovative experiential marketing firm focusing on event production and hospitality, today announced their recent Sports Business Awards nomination.
"It is a real honor for us to be nominated by the Sports Business Journal, who is considered the undisputed authority on the business of sports," explained BeCore CEO and founder Mark Billik. "Being recognized for our creativity, hard work, and passion is a true testament to what BeCore is all about. Our entire team is passionate about what we do and the sports marketing industry as a whole."
BeCore is recognized for its world-class event production, dedicated staff, and unparalleled range of services for clients of every size and at every stage of event/product production and promotion. Their list of clients includes Red Bull, Nike, Target, Columbia Sportswear, and Microsoft, among others.
The Sports Business Awards, presented by SportsBusiness Journal and SportsBusiness Daily, recognizes excellence and outstanding achievement in the business of sports from January 1, 2009 through February 28, 2010.
Awards will be presented at the New York Marriott Marquis on May 20, 2010. For more information about the Sports and Business Awards visit http://www.sportsbusinessconferences.com/sba/2010.
About BeCore
BeCore Promotions, based in Los Angeles, California, is a leading sports marketing and hospitality agency. Formally launched in 1998, BeCore has recently opened an office in Minneapolis, Minnesota to better support its mid-west and east-coast clientele and projects. For more information about BeCore, check out their website at http://www.BeCore.com.
# # #