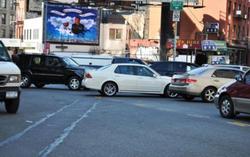 New York, New York (PRWEB) April 10, 2010
With the music industry in turmoil and few record deals being offered, independent artists have to struggle to get their music heard, but one local business is lending a hand. Independent Hip Hop/Rap Artist Slykat met Celebrity Vision VP of Marketing, Peter Sideris by chance when promoting his new single, "Hotel Cloud Nine (feat. Josh O'Connor)". After listening to the new single, New York based Celebrity Vision decided to donate ad space to the Artists on their Highly Visible Digital Billboard to help promote the music. The Giant Billboard captures the daily attention of commuters traveling toward the Holland Tunnel and the Westside Highway, including those in Wall Street, potentially reaching 200,000 people per day. Usually, only Fortune 500 companies like BMW, Pepsi, MTV, or British Airways have the opportunity to advertise on such a Billboard, and Slykat is hoping that this kind of exposure will get his music heard.
"Everyone talks about helping independent artists out, but it's not every day that someone believes in your music enough to let you advertise on a giant billboard near the Holland Tunnel. Nowadays, Artists have lots of opportunity to sell their music on itunes and Amazon, but getting the mass exposure is still hard," explained Slykat. The Ad can be seen on the Billboard various times throughout the day for a month at the corner of Canal and Hudson street in lower Manhattan adjacent to the Holland Tunnel entrance.
The new single "Hotel Cloud Nine (feat. Josh O'Connor)" which Slykat describes as having a Hip Hop/Pop crossover vibe is available for sale on itunes at http://itunes.apple.com/us/album/hotel-cloud-nine-featuring/id358377389 and on Amazon at http://www.amazon.com/Hotel-Cloud-Nine-Featuring-Oconnor/dp/B003A935SM/ref=dm_ap_trk1?ie=UTF8&qid=1266097644&sr=1-1
For more information about the Artist Slykat please go to http://www.myspace.com/imslykat For more information about the Artist Josh O'Connor please go to http://www.joshoconnor.com
For booking please contact StraightLine Entertainment at 305-609-1997
For information on advertising on the Digital Billboard Network contact (212) 377-0236 or go to http://www.celebrityvision.com .