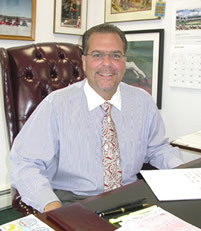 Franzoso Contracting offered us the best service, support and workmanship on our roofing and siding job in Westchester. From estimate, proposal and schedule they were on time, on budget and did great work.
(PRWEB) April 9, 2010
A lot of things have changed in home improvement since Mark Franzoso started Franzoso Contracting back in the summer of 1980. But today, as his company celebrates its 30th anniversary — and as thousands of satisfied homeowners in neighborhoods from Rhinebeck to the Yonkers border will agree — one thing hasn't changed at all: The honest, straight-forward and reliable way he does business.
Honesty and quality for everyone.
Putting customers first and treating them right is something Mark learned at an early age. After high school he took a job at a construction company in Connecticut, where he learned the home improvement business. By 1980 he knew it was time to go out on his own, and together with a good friend and an old, wood-grain-paneled station wagon he bought for $250, Franzoso Contracting began.
It was tough at first, but his skill, hard work and ethic began to pay off. For $500, the station wagon was replaced a year later by a used yellow Chevy pickup with a white hood. And little by little, more and more people got to know, appreciate and recommend Franzoso to friends and neighbors. The business grew. And it grew, he says, "by providing every customer with honesty, quality and total satisfaction in every job. Because you never get a second chance to make a good first impression."
"Unbelievable improvement"
Since then, his company has grown from two people to 85 experienced sales, administrative, production and installation specialists whose knowledge and expertise are "state of the art and a cut above the rest. As far as I'm concerned," he says, "it just can't be any other way." Many of his staff have been with him for 20 years and more. That old Chevy pickup has since given way to 30 work trucks, and he has built the finest, most complete and continually updated showroom of roofing, siding, windows and more in Westchester, Putnam and Rockland counties.
For homeowners, the true beauty and advantages of today's home improvement are better technology and far more choices. With his company, however, customers have even more to choose from because the relationships he has developed over the years with manufacturers across the country enable him to offer products no other contractor in the area can get. And, as he helpfully advises customers, many of these products qualify for the $1,500 energy tax credit included in the federal stimulus package.
"Since I began, the changes in technology have been unbelievable — across the board. Things are always changing and my company is too. We offer customers a number of green products, and we've been venturing into energy-saving rooftop solar as well," he says. "It's a natural extension of our business, and, I think, the future of this industry." Mark also adds that out of all the states, New York has one the highest rebates for renewable energies like solar. Almost 40 – 45% in some cases.
The people's choice. Again and again.
In an industry that has often been tainted by stories of shoddy workmanship and questionable business practices, Franzoso has achieved a level of customer confidence and satisfaction few contractors in any industry can equal. Over 70% of his business comes directly from repeat customers and word of mouth. He also keeps a repair crew active six days a week, and the majority of service calls they make entails repairing work done by other contractors.
Right from the start, Franzoso promises every customer the same two things he will and won't do for them: He will do the very best job, down to the smallest detail, but won't take a penny until the job is done. "I want people to be comfortable," he says, "I want the customer to always have the upper hand."
With home improvement, Mark believes, "you want to choose a company that's dependable, reliable and honest. I'm never going to be the cheapest. But I can guarantee that when you go with us, no one can deliver the goods like we can — a fully licensed operation, customer service, products, expert installation techniques, and crews that are always clean-cut and courteous, and who always leave your grounds clean and spotless." He also adds that every square inch of his workmanship is backed with a lifetime warranty. At the same time, he invests and reinvests in both his company and staff with training courses and certifications for products, techniques and specialized areas like household lead containment and asbestos removal.
Today, 30 years after it all began, Franzoso's reputation for honesty and quality have made his company the largest home improvement business in Westchester and Putnam counties. His trucks, signs and thousands of satisfied customers are now an everyday part of the landscape. His company website Franzoso.com regularly records over 10,000 visits every month, and he stays actively connected to the community through direct support and sponsorship of local charities and the arts, including the Paramount Center for the Arts in Peekskill, where he serves on the Board of Directors.
"There are most parts of Westchester," he says, "that if you call us, we can come to your house and literally point to one of our jobs. I always tell everyone that our work is showroom quality, and that's why we have a showroom in every neighborhood. We're here to stay," he adds, "this company will be here forever."
About Franzoso Contracting: Franzoso Contracting is a home improvement company, specializing in roofing, siding, windows and doors, home energy efficiency and is a fully licensed contractor in Westchester and Putnam county. NY. Franzoso Contracting is headquartered at 33 Croton Point Ave., Croton on Hudson, New York, with additional locations in Buchanan and Peekskill, NY. They can be reached at 914-271-4572 or online at http://www.franzoso.com
Franzoso Contracting Headquarters and Showroom: 33 Croton Point Avenue, Croton-on-Hudson, New York, 10520. Phone: 914-271-4572 Fax: 914-271-8644
# # #