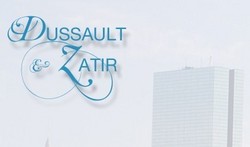 Fall River, MA (PRWEB) April 9, 2010
The law firm of Dussault and Zatir settled out of court a claim for nurse injured in a motor vehicle accident for policy limits of $250,000.
Following an accident, the claimant suffered from persistent neck pain. The claimant then underwent an MRI, which confirmed a herniated disc, so the claimant proceeded to undergo surgery to her cervical spine.
A vocational rehabilitation counselor provided a report supporting his contention that the claimant would not be able to perform the duties required of a registered nurse. An expert economist determined and the claimant's future lost earning capacity due to her permanent partial disability. The claim settled out of court for the policy limits of $250,000.
The law office of Dussault and Zatir is based in Southeastern Massachusetts and Rhode Island. They specialize in auto accident injury, serious injury, death claims, and work related injuries in MA and RI.
###