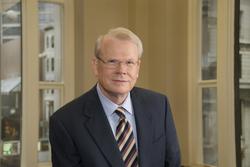 The formation of OLI is a logical next step for KnowledgeWorks as we continue to assess the future of learning in a way that is more authentic
San Francisco (Vocus) April 9, 2010
Leaders from the grantmaking world will be immersed in the future of learning at the Grantmakers for Education, or GFE, briefing at the Delancey Street Foundation in here today and Friday.
"Innovation in Education, Redesigning the Delivery System of Education in America" is a new kind of convening by GFE designed to help education philanthropists develop a shared vision for transforming U.S. education based on the needs of learners. The design for the event, created with Collective Invention and KnowledgeWorks, thrusts philanthropic leaders into the future by seeing through the eyes of future learners. From their student-based perspective of the year 2025, participants will identify innovations which are likely to have the greatest leverage for creating transformation in the present.
To help bring the future of learning to life, GFE engaged San Francisco-based Collective Invention, or CI, a social innovation firm that helps leaders of innovation create, articulate, and implement visionary futures. GFE's interest in basing the future scenarios on KnowledgeWorks' 2020 Forecast: Creating the Future of Learning led to KnowledgeWorks joining Collective Invention in making GFE's vision for the event a reality. Together, the two organizations have created a simulation tool and an innovation process that put participants in learners' shoes as they walk different future paths.
U.S. Department of Education's Jim Shelton, assistant deputy secretary for innovation and improvement, who will address the group on Friday, said the philanthropic community "needs to and can play a powerful role in accelerating the transformation of learning."
Meanwhile, the collaboration between Collective Invention and KnowledgeWorks marks the first step in a strategic alliance to radically transform national thinking about learning in the 21st century. Based in Cincinnati, KnowledgeWorks develops and implements innovative approaches to high school education in the United States.
To drive this work, KnowledgeWorks has created a new unit, Organizational Learning and Innovation, or OLI. Veteran KnowledgeWorks executive Jillian Darwish has been named OLI vice president. The OLI team will use its expertise in systems thinking, organizational learning and change management to support KnowledgeWorks' high school work.
"The formation of OLI is a logical next step for KnowledgeWorks as we continue to assess the future of learning in a way that is more authentic," said KnowledgeWorks CEO Chad Wick. "Most of us hold deep assumptions about the world, which, left unexamined, limit our future to one based solely on the past. However, when we suspend our current thinking, we make room for a future that breaks free from the past."
Darwish, who was the founding executive director of KnowledgeWorks' Institute for Creative Collaboration, said the development of OLI comes at a crucial time in the education landscape, as thought leaders are challenged to embrace innovation that will support the critical education needs of the future.
"When we work with leaders, such as GFE, we create the kind of environment that helps groups and individuals challenge boundaries and conventional ways of thinking, and then to support the development of the conditions for change so that leaders can successfully move from vision to action," Darwish said.
Following this week's GFE briefing -- which has received generous support from the W.K. Kellogg Foundation – the work of Collective Invention and KnowledgeWorks will take on a national scope. They will work with organizations across the education sector, including school districts, helping them imagine what is possible and creating the learning system needed in a 21st-century global environment.
"We now know better than ever how to harness future scenarios, human-centered design and collective intelligence for solutions to these global challenges," said Erika Gregory, president of Collective Invention. "Collective Invention could not be more delighted to have KnowledgeWorks as a collaborator in the education arena as we pursue our mission: Innovation for the Common Good. We look forward to working with NGOs, government agencies and philanthropies who share KnowledgeWorks' and Collective Invention's commitment to social innovation."
KnowledgeWorks strives to be the leader in developing and implementing innovative and effective approaches to high school education in the United States. Our work primarily focuses on redesigning urban high schools, developing STEM and Early College high schools, and supporting student-centered approaches to delivering real learning and results in our schools.
Collective Invention is a multi-disciplinary consultancy that leverages insights from organizational development, anthropology, architecture, design, the arts and business. Based in San Francisco, Collective Invention works with businesses, schools, philanthropies, NGOS, corporations, and government agencies dedicated to innovation that serves the common good. Much of Collective Invention's work focuses on breakthrough approaches to education, health, and environmental sustainability.
Grantmakers for Education strengthens education philanthropy in the United States. Its tools, programs and services allow its nearly 250 member organizations to share best practices, learn of new developments, and advance alignment and collaboration among funders. By deepening the impact and effectiveness of funders who support early childhood, K-12 and postsecondary education on local, regional and national levels, GFE improves educational outcomes and increases opportunities for all students.
###