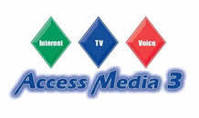 "AM3 understands how to best serve the MDU market by blending our innovative media and telecom services and our strong relationships with property managers and management companies." Scott Rediger, CEO of AM3
Oak Brook, IL (PRWEB) April 12, 2010
On the heels of an infusion of equity financing, Access Media 3 Inc. (AM3) announced today the acquisition of three firms that provide media and telecom services to multi-dwelling units (MDUs). The acquisitions are part of AM3's (http://www.am3inc.com) strategic growth plan to expand services for TV, high-speed Internet and voice (triple-play services) for the MDU market, serving primarily residential end users.
AM3 is the Midwest's largest, non-franchised, triple-play services provider. The firm has successfully integrated six media/telecom companies under its operational umbrella, providing clients with flexible networking options and customized customer care. The three acquisitions increase AM3's regional penetration to more than 40 thousand doors passed in more than 300 buildings.
The acquired firms are:
Avvid Technologies in Minneapolis/St. Paul
Cipher Ltd. in the Chicago area
onShore Networks, LLC's MDU business in the Chicago area
"We seek out properties to acquire where we can best leverage our suite of products to address a clearly identified residential need and pent up demand, " said Scott Rediger, chief executive officer of AM3. "AM3 understands how to best serve the MDU market by blending our innovative media and telecom services and our strong relationships with property managers and management companies."
In late 2009, AM3 raised $10 million in equity funding to accelerate growth through acquisition and organic sales.
About Access Media 3
Access Media 3 Inc. (AM3), provides triple-play services (satellite television trhough its key account partnership with DirecTV, high-speed Internet and telephone/voice services) to customers managing multi-dwelling residential, commercial and multi-use properties in the Midwest. Access Media 3 is based in Oak Brook, IL and is the Midwest's largest, non-franchised, triple-play services provider. For more information about AM3, visit http://www.am3inc.com
###