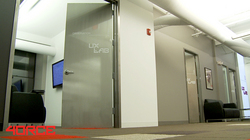 Simply put, 4ORCE's UX Lab will allow us to efficiently optimize user experience and deliver results. - Dan Curran, President & CEO
St. Louis, MO (PRWEB) April 9, 2010
The award-winning creative agency NGAGE today officially re-introduced itself as 4ORCE. 4ORCE is an agency designed to maximize the digital user experience for client companies and their customers with a fresh perspective on how brands and consumers communicate. The agency brings together creative strategy, user experience, insights and intelligence for companies in St. Louis and across the country. The cornerstone of the company shift is a brand new, state-of-the-art UX lab, which was custom-designed to maximize the digital user experience for 4ORCE's client companies and their customers. In addition to the UX lab, 4ORCE offers a host of online and offline services including Search Engine Optimization, Social Media, Public Relations, Print and Branding.
Through usability testing, 4ORCE UX architects are able to analyze and understand all aspects of a customer's experience with a product or service. The lab brings together multiple, synchronized high-resolution cameras, computer screens, USB devices and more to analyze user activity related to the architecture, design and model of a device or system. It is designed to help companies enhance the user experience for customers and significantly increase their bottom line through the use of digital strategy and usable technology.
"NGAGE has far exceeded industry benchmarks over the past three years. We've reached a place, however, where we felt it was time to evolve our focus and brand. We are excited to make this significant investment of more than a quarter of a million dollars to shift NGAGE to 4ORCE. The new 4ORCE UX Lab marks a new era for our company, our customers and for St. Louis, as this is the first agency lab in St. Louis. Our location and resources give national brands easy access to this digital technology. Simply put, 4ORCE's UX Lab will allow us to efficiently optimize user experience and deliver results," Dan Curran, President & CEO, said.
4ORCE clients are using UX to begin usability testing on everything from websites, phone apps, social media sites and more. According to the latest Nielsen Norman Group data, those companies that spend around 10 percent of their project budget on UX lab sessions see usability increased by 114 percent, sales/conversion rates increased by 87 percent and use of specific features skyrocketing by 223 percent.
"By streamlining interaction between a user and a brand, clients see more loyal customers, a more profitable bottom line and a positive digital extension of their brand," Curran added.
"4ORCE understands the marriage of brand marketing and user experience," said Gina Bhawalkar, User Experience Manager at Scottrade, Inc. "We view them as experts in the field and their opening of a UX lab certainly speaks to their commitment to helping their clients improve the usability of their products."
4ORCE projects it will double its 2010 revenue over 2009 figures, and the agency expects to have a 20 percent to 30 percent increase in staffing to meet client demand.
About 4ORCE
4ORCE is advancing digital engagement and user experience. 4ORCE was founded in 2006 by President/CEO Dan Curran. The St. Louis-based agency bridges the space between today's digital technology and tomorrow's brand engagement. The team uses bold creative solutions and a user-centered design to better connect people, media and branding. Serving a diverse client-base that includes Scottrade, Hanes and Hardee's, the agency has an impressive portfolio that includes successful creative campaigns and executions through the following media and strategies: event marketing, social media and networking, print, radio, mobile, digital strategy, online video, PR, websites, intelligent user experience (UX), interactive and viral campaigns to name a few. Find 4ORCE online at http://www.4ORCEdigital.com.
# # #