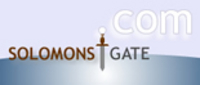 Marietta, GA (Vocus) April 10, 2010
Need a place to study the bible in a non-superficial fashion? How about a place to just listen to some Christian music or chat online with other Christians of like faith? Wouldn't it be nice to be able to do this from the comfort of your own home? Well now you can at SolomonsGate.com. The first site of its kind, Solomonsgate.com provides a framework for Christians and Non-Christians to study, interact, and learn in a peaceful and quiet manner right from the comfort of their own homes. From a learning perspective the site offers:
1. All 66 Books of the Bible
2. Powerful search feature allowing complete bible search for any word or phrase
3. Mechanical Translation links to Hebrew literal wording (Old Testament). This helps understand literally what the author intended to say.
4. Mechanical Translation links to Greek literal wording (New Testament). This helps understand literally what the author intended to say.
5. Feature Films - Christian TV (Powered by Hulu.com)
6. World News (Powered by Google.com)
7. A Wealth of Christian News Links spanning Church, Society, and International issues
8. Biblical teaching from SolomonsGate.com authors
9. Links to Christian books, Movies, and Music
10. Links to many Christian Ministry Sites
The site also features live chat rooms for the following denominations:

Adventist
Anglican
Baptist
Calvinist
Catholic
Congregationalists
Eastern Orthodox
General Public
Holiness
Jehovah's Witness
Latter Day Saints
Lutheran
Messianic Jews
Methodists
Non-denominational
Nestorians
Oriental Orthodox
Oneness Pentecostal
Pentecostal
Pietists
Presbyterian
Protestant
Puritan
There is also the ability to add friends and entertain private conversations, or simply ignore perspectives. This can all be done without installing any additional software on your computer. Simply sign up and become a free member today at SolomonsGate.com. Come see what everyone is talking about.
# # #