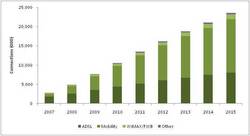 There is substantial prop-up potential on the revenue side, the CapEx case is challenging, but we certainly like the African WiMAX business case a lot better than we did only eighteen months ago
Cambridge (PRWEB) April 12, 2010
After years of slow growth and outright despair at whether broadband would ever take off on the African continent, the market is inching ever closer to a tipping point, according to a new report from AfricaNext Investment Research, "The Future of African Broadband". As submarine cables find their way along Africa's coastlines, the African continent is slowly emerging from what the firm calls the "Dark Ages of African bandwidth". Close to 3m new broadband connections were added by African operators in 2009, taking overall market size to 7.6 million. AfricaNext research projects this figure to treble to about 25 million by 2015, with a long term target of $8bn in Internet retail revenues.
While obstacles remain, the pattern of upside is unmistakable. "African Internet markets are in the midst of a seminal transition, from a phase of scarce basic connectivity to one of widely available, if not necessarily abundant bandwidth", the authors write. "Opportunities for investors abound, but the accretive value of broadband remains difficult to grasp", the report says, pointing to challenges investors will face in identifying the best opportunities. "There is substantial prop-up potential on the revenue side, the CapEx case is challenging, but we certainly like the African WiMAX business case a lot better than we did only eighteen months ago", the report states.
The report also highlights the impact of mobile broadband in the African context. "Nearly seven out of every ten new broadband subscriptions added in Africa over the next five years will use a mobile platform", the authors write. "While this creates significant technology and business model challenges, we believe Africa will play a leading global role in mobile broadband technology adoption and usage, as well as lead the way in developing workable operator business models."
In "The Future of African Broadband", the AfricaNext Research team builds on months of research to size up demand and supply, analyze successful pricing models interviews and analysis to provide projections for broadband adoption in 30 African markets. Broadband remains the most significant opportunity for investment returns in the African TMT sector -other than mobile voice- and the "Future of African Broadband" provides perhaps the most in-depth research conducted on the future and the economics of African mobile broadband.
For more information on how to obtain this report and download a full excerpt, please visit the AfricaNext Research website at http://www.africanext.com or contact info(at)africanext(dot)com.
About AfricaNext Investment Research
AfricaNext Investment Research is a leading advisory and equity research firm focused on the telecommunications, media and technology (TMT) sectors in Africa. We provide our clients with the most in-depth, independent and fundamentals-focused analysis available on the TMT sector in Africa. Our research tracks supply and demand dynamics, with a focus on developing profitable bottom-of-the-pyramid strategies and unearthing bottom-line shareholder value, wherever it may lie.
# # #