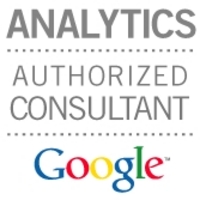 Web analytics software allows online marketers to precisely measure the effect of all of their online activities, allowing for instant return on investment calculations.
New York, NY (PRWEB) April 15, 2010
Resolute Digital LLC, a full service digital marketing agency based in New York City, announced today that it has become an Google Analytics™ Authorized Consultant. Agencies seeking entry into the GAAC program must complete an extensive review process that demonstrates to Google the agency's proven expertise in web analytics. Resolute Digital is one of three agencies in the New York City area that have been accepted into the program.
Web analytics is a key driver of the kind of performance based marketing that has driven the enormous growth of online advertising. Web analytics software allows online marketers to precisely measure the effect of their online activities, allowing for instant return on investment calculations. Several years ago, Google launched Google Analytics and made the software available to online marketers free of charge, vastly expanding its capabilities over time.
According to Jarod Caporino, Resolute's managing partner for Social Media and Business Development, "We have been watching the growing sophistication of Google Analytics software over the past few years." Caporino said that Resolute managers have worked with all of the major web analytics programs over the years, but that Resolute decided to standardize on Google Analytics early last year.
"Increasingly, our clients were using Google Analytics because it was free and because its user interface was well designed and easy to use," Caporino said. When Google Analytics released a Google Analytics API in the spring 2009, which allowed developers to access and use Google Analytics data in customized reports, Resolute decided to adopt the software as it's default reporting package. Resolute writes proprietary reporting tools for all of its clients in order to streamline business decision making.
Greg Wittmann, program manager for online media and analytics, has been exploring the most advanced features of Google Analytics since joining Resolute Digital in the fall, 2009. "I continue to be very impressed with the variety and capabilities of new features that Google continues to add to its analytics software," Wittmann said. "We're using Google Analytics to track mouse-over actions, Flash, and user activity across multiple domains." Wittmann added that one of the great advantages of being accepted into the GAAC program is that we get elevated technical support and admission to partner only forums where the most esoteric features of Google Analytics are fully explored.
While Resolute is often engaged specifically to assist clients implement and understand Google Analytics, as a full service agency web analytics is incorporated into new website, widgets, and mobile applications. "Having a deep understanding of the capabilities of web analytics software," Caporino said, "allows us to build in ROI and product evaluation early on in the design phase. We don't want our clients to spend several hundred thousand dollars on a new website and then wonder why no one came."
Resolute Digital was founded in 2008 and its staff currently includes more than two dozen professionals including leading web designers, information architects, programmers, search marketing, and web analytics experts. It has built innovative and widely used websites, widgets and mobile apps. In addition, Resolute manages paid search campaigns and builds and implements proprietary reporting software.
###