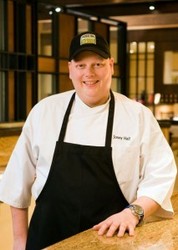 Santa Clara, CA (PRWEB) April 11, 2010
The Santa Clara Marriott is pleased to announce the return of Executive Chef Jonathan Hall to their award-winning restaurant, Parcel 104. For over four years, Chef Hall was instrumental in creating superb market-to-table meals as Chef de Cuisine of this Santa Clara restaurant. Parcel 104 was created by famed culinary talent Bradley Ogden 10 years ago, and now celebrates its 10th anniversary by welcoming the expertise of Chef Hall back to the table.
Chef Hall grew up enjoying macrobiotic cuisine and picking the day's dinners from his home garden. He studied at Johnson & Wales Culinary School in Providence, Rhode Island, and honed his skills further at the Walt Disney World Resort in Orlando, FL. Based on his childhood culinary experiences, it should come as no surprise that Hall would eventually find his way to Parcel 104, where ever-changing menus are implicitly designed with fresh, seasonal ingredients. In early 2009, Chef Hall worked very closely with Chef Ogden to open Bradley Ogden's Root 246 in Solvang, California from ground-up. After Root 246 was opened to the public, Hall saw the opportunity to return to Parcel 104 – this time as Executive Chef.
The chef draws inspiration from what he sees at the market each day, and places heavy emphasis on local growers. A few examples of Parcel 104 menu items include Cucumber Wrapped Dungeness Crab, Four Story Hill Farm Milk-Fed Poularde and Sonoma Artisan Foie Gras.
About Parcel 104
Parcel 104 is a venture of renowned chef Bradley Ogden. The American-themed menus celebrate seasonal delights and showcase the finest efforts of local growers, ranches and dairies. Parcel 104 is aptly named after the original lot number on which it sits; a once thriving Bartlett Pear Orchard operated in the late 1800s. Marking its 9th anniversary in 2010, Parcel 104 is known for its ever-changing menu based on what is in season that very morning. The restaurant serves breakfast, lunch and dinner and also offers a Chef's Tasting. Parcel 104 is home to seven professionally-trained sommeliers and offers 500 wine selections to complement the regional American menu.
About the Santa Clara Marriott
The Santa Clara Marriott luxury hotel, located in the heart of Silicon Valley, is just minutes from the San Jose International Airport and only 45 minutes from San Francisco. The hotel is also conveniently positioned near Santa Clara Convention Center, Intel Tech Museum & the Winchester Mystery House. Hotel amenities include a heated outdoor pool and whirlpool. State-of-the-art, flexible meeting facilities, beautifully appointed guest rooms and an award-winning restaurant make this Santa Clara hotel a top-choice of those seeking upscale Silicon Valley lodging. For more information, visit the website: http://www.marriott.com/SJCGA.
###