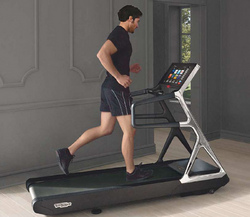 VISIOweb is the revolutionary display offering web browsing, TV and Ipod connection while training!
(PRWEB) April 12, 2010
VISIOweb, the first integrated display offering internet, TV and iPod connection during workouts. With VISIOweb even the laziest of people and the most incurable social network addicts have no more excuses for skipping physical exercise, as now, they too can dedicate more time to their health while twittering, contacting friends on facebook and keeping up-to-date with all the latest news.
VISIOweb, available throughout the entire Technogym cardiovascular line, is the most innovative cardiovascular equipment digital platform in the market providing users with comprehensive training and entertainment experience and offering to the operators a revolutionary business tool to communicate with the members, understand their expectations and improve the club business and service level. Designed as the result of findings from one million workouts across seven countries, it offers an accessible and easy to use interface for beginners and advanced users.
In addition to internet, VISIOweb screen also includes numerous other exclusive functions:

Communicator the application that transforms the time dedicated by the users to their cardiovascular workout into a business opportunity for the operator thanks to a quick and effective message system for operators to submit questionnaires on service quality, to promote club activities and services and to get the most from VISIO in terms of marketing opportunities
Guide Me: an unique solution to provide visual education to users on the basics of Excite+ equipment, while your trainers focus on high value activities
Games: a full range of interactive games to entertain the user during the work out and to train both mind and body
Plug & Train: directly from the equipment display create and save on a TGS key the favourite workout program to guide users during the entire exercise schedule and to start up automatically the Excite+ equipment
USB Multimedia: the screen is fitted with a USB port to enjoy personal multimedia contents from any USB key directly from the VISIO screen
iPod/iPhone: VISIO is fully compatible with iPod and iPhone in order to enjoy the personal iPod audio and video contents from the 19" screen
IPTV: VISIO technology represents the state of the art in terms of digital TV: the unique interface in the industry able to receive the IPTV signal directly from a computer network cable, resulting in lower installation and maintenance costs.
More info: http://www.technogym.com/visioweb
###