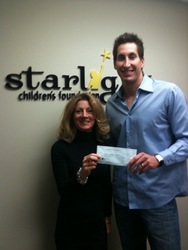 We are so excited to partner with Starlight Children's Foundation and make a difference in the lives of seriously ill children. Starlight creates programs that educate, entertain and inspire kids and their families as they cope with daily challenges.
Los Angeles, CA (PRWEB) April 21, 2010
Los Angeles based sales consulting and training firm STARR International Enterprises recently donated 2.5% of 2009 net profits totaling $5,000 to Starlight Children's Foundation.
"When I started this company, it was very important to me to include charitable contirbutions into the business plan. Rather than just talk about making a difference, I wanted to make it mandatory. Starlight Children's Foundation was a logical partner for us. Being a father of twins and knowing how precious children are, no child, no matter how seriously ill, should have to feel isolated or alone. They deserve to smile, experience joy, and forget, even if just for a little while, about the challenges they face everyday." STARR CEO John Moran.
Starlight Senior VP Joan Ford was estactic when she got the call from STARR International.
"We were so excited when STARR contacted us and told us about their plans for the upcoming year. STARR International is a first-class organization that helps people and companies get the most out of their performance. In a way, our organizations are similar because while they help businesses maxzimize their potential, Starlight helps families make the most of their challenging personal situations."
The two organizations also have plans to run a picnic event at the 2010 Hermosa Open Pro Beach Volleyball tournament July 16-18, bringing 50 families to the beach to watch volleyball, eat, play games, and enjoy a day at the beach.
"Money is the #1 means by which Starlight can develop their programs, but it is just one way we can support them. Giving our time and care to these children is just as important to us as an organization. Having played professional beach volleyball for 9 years, I thought this would be a fun way to entertain the kids and their families, " says John.
STARR International will again give 2.5% of its profits to Starlight at the end of 2010 and Moran looks forward to a parternship for years to come.
"We are very blessed as a company to help so many businesses improve through our services. I feel the work we do for our community is just as important. It is our reposnsibility to give back and improve lives anyway we can."
STARR International is a sales consulting and training firm based in Los Angeles, CA that doesn't just tell clients how to improve sales performance, they show them through guaranteed, interactive engagements.
###