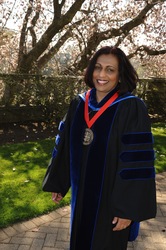 The joyous inauguration ceremony was themed "Living Our Legacy with Pride; Forging Our Future With Vision."
Purchase, NY (PRWEB) April 12, 2010
Manhattanville College has inaugurated Molly Easo Smith, Ph.D., as the school's eleventh President on April 7, 2010.
The joyous inauguration ceremony – themed "Living Our Legacy with Pride; Forging Our Future With Vision," began with an academic procession led by Professor Ray Langley, that included Pipe and Drum, the New York City Emerald Society, faculty, delegates and senior administration, religious officials, former Manhattanville presidents and the Board of Trustees. Dr. Smith was led to the college's O'Byrne chapel by the Master of Ceremonies, Robert Hall. Following a performance of the national anthem by the Quintessentials of Manhattanville College, Monsignor Robert Sheeran, President of Seton Hall University, offered the Invocation.
Salutations were offered by Ambassador Prabhu Dayal, Consul General of India in New York; David Adams, Ph. D., Chair of Manhattanville Faculty; L.A. Adams, Chair of the Manhattanville Staff Assembly, on behalf of staff; Katie Cariello '10, President of Manhattanville's Student Government Association, on behalf of students; Karen Olson, RSCJ '58, President of the Manhattanville Alumni Association, on behalf of alumni; Susan Maxwell, RSCJ, '63, '68, on Behalf of the Society of the Sacred Heart; Betty Rosa, Ed. D., New York State Board of Regents; and Westchester County Executive Rob Astorino. Laura Anglin, M.S, President, Commission of Independent Colleges and Universities, spoke on behalf of college and university presidents.
Reflecting Manhattanville's rich diversity, as well as her own background, Dr. Smith greeted her audience in Hindi, Tamil, Malayalam, Spanish and English. Citing the women who have influenced her personally, including her mother, grandmother, and her mother's adoptive mother, "the pillars on which I rest my personal commitments," Dr. Smith also honored three previous female Manhattanville Presidents, Mother Burnett, Mother Dammann, and Mother O'Byrne. "Their vision of integrated learning that develops the whole person, global education that prepares students for life and living, and commitment to instilling values of service and leadership," said Dr. Smith, "compels our united and collective attention and will shape our aspirations hereafter."
One of the high points of the ceremony was a moving musical rendition of a poem by Jeane Beattie – Knapp (Class of 1920), taken from the College Magazine of 1919 and set to music by Professor Geoffrey Kidde from the Music Department. It was a fitting reminder of the strong program in Music and Music Education at the College.
Following the investiture of the President and the Inaugural Address, and an inspiring musical finale, Reverend Wil Tyrell offered the Benediction. A reception and celebration for the entire community followed the ceremony at Reid Castle's Ophir Room and French Salon. The classical South Indian dance troupe Ganapati Kautvum performed during the reception, thus honoring Dr. Smith's origins in Chennai, India.
The ceremony was part of a week-long celebration that included diverse sporting and cultural events, including a Gregorian Chant Concert by Regina Laude Sisters and a lecture by Professor Frank Branceleone in Pius X Music Hall. Another highlight of the day's festivities was the launch of the exhibit "Founding Mothers, Leadership at Manhattanville: Presidents Dammann, O'Byrne, and McCormack," which featured resources from the Library Archives honoring the legacies of the three influential presidents, as well as letters to the College from John F. Kennedy, recently discovered by Dr. Smith.
After an extensive national search to find the best person to lead Manhattanville into the future, the Presidential Search Committee unanimously recommended Dr. Smith and the Board of Trustees unanimously approved her appointment. During the first months of her tenure, Dr. Smith has initiated discussions on several exciting and bold initiatives which draw on Manhattanville's signature strengths while responding to twenty-first century contexts. Her focus on broad participation by all members of the College community has resulted in creation of a Staff Assembly, a semester-long New Faculty and Staff Seminar, a Faculty-Staff Retreat in May, and a Freshman Mentoring Project.
Dr. Smith brings extensive experience as a scholar, teacher, dean, provost, and college trustee in both non-denominational and Catholic institutions to her role as President of Manhattanville; that experience, combined with a strong identification with Manhattanville's mission, international experience and outlook, and record of visionary leadership, constitute a perfect match with Manhattanville's identity and aspirations. Dr. Smith began her presidency on July 1, 2009.
Before her appointment at Manhattanville, Dr. Smith has held the position of Provost at Wheaton College in Norton, Mass. In addition to working with the Office of Advancement on fundraising and institutional grant writing initiatives, she oversaw an operating budget of $20 million and instituted efforts to increase faculty diversity through strategic hires and appointments.
At Wheaton, she also developed the vision and design for a new on-campus Center for Scientific Inquiry and Innovation by working closely with faculty in the sciences. Construction of the new building is underway and is scheduled for completion by early 2012. Her initiative to create an Academic Affairs Committee of the Board of Trustees fostered interaction between staff, students, faculty, and the board; she instituted sustainable initiatives for faculty support and development, which received coverage in national media outlets. In addition, she spearheaded the reorganization of student support services into the Office of Advisory and Co-Curricular Learning. She currently serves on the Board of Trustees at Fairleigh Dickinson University.
She is the author of two well-regarded scholarly works, Breaking Boundaries: Politics and Play in the Drama of Shakespeare and his Contemporaries (1998) and The Darker World Within: Evil in the Tragedies of Shakespeare and his Successors (1991) and has published several peer-reviewed articles and book reviews in journals in her field.
From 2002 to 2006, she held the position of Dean of the College of Arts and Sciences at Seton Hall University in South Orange, N.J. Overseeing 21 Departments and 18 Programs and a $30 million budget, she facilitated dialogue between faculty and students and oversaw the creation of several new programs, including a Ph. D. in Molecular Bioscience, an MA in History, a BA in Theater, and a BA in Environmental Studies. Dr. Smith also coordinated faculty efforts for the school's redesigned $35 million, 40,000 square foot Science and Technology Center.
Prior to this position, she held faculty appointments in the English departments at several colleges and universities in the United States, as well as at the University of Aberdeen in Scotland. Dr. Smith earned undergraduate and graduate degrees from Madras Christian College at the University of Madras in her native India and a Ph. D. in English at Auburn University. She also studied at the University of Delaware.
Dr. Smith is married to Duane H. Smith, Director of Honors and Scholars at Mercy College in Dobbs Ferry, New York. The couple has a son and a grandson.
About Manhattanville College:
Manhattanville College (http://www.manhattanville.edu) is an independent, co-educational liberal arts institution whose mission is to prepare students, through rigorous academic and co-curricular programs, for ethically and socially responsible service and leadership within a global community. Located just 30 minutes from New York City, Manhattanville serves 1,700 undergraduate students and 1,100 graduate students from 70 countries and 40 states. Founded in 1841, the College offers more than 45 undergraduate areas of study in the arts and sciences and has one of the largest teacher education programs in New York State.
# # #