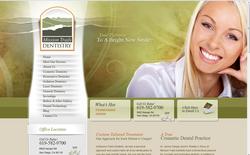 San Diego, CA (Vocus) April 10, 2010
Two San Diego cosmetic dentists set out to create an attractive, user-friendly website to showcase what sets their practice apart from others and to share some of the results they have been able to achieve for patients over the years. After consulting with Rosemont Media™, a dental website design firm, Drs. Bradley A. Ross and James D. Salazar are thrilled to announce the launch of the new Mission Trails Dentistry website.
With its eye-catching and easy-to-navigate design, the website is intended to help patients become familiar with Mission Trails Dentistry and all of the general, cosmetic, and restorative treatments that are available at the practice. San Diego porcelain veneers patients can read detailed information on how this procedure can transform chipped, cracked, or stained teeth, as well as view before-and-after photos of the treatment. Overviews of other cosmetic treatments such as teeth whitening and comprehensive smile design are also given on the new website.
Patients who are interested in dental implants in San Diego to fill in the gaps in their smiles will find a thorough explanation of how this treatment can create beautiful, sturdy, and natural-looking teeth replacement. Patients can also read how Drs. James D. Salazar and Bradley A. Ross provide full-mouth rehabilitation and non-surgical periodontal gum care.
Invisalign® invisible braces are also profiled on the practice's new website and Mission Trails Dentistry is a San Diego Invisalign® Premier Provider. This state-of-the-art orthodontic treatment helps patients straighten their teeth without traditional braces. Invisalign® trays are virtually undetectable and are easily removed so that patients can eat and brush their teeth as they normally would. With Invisalign® clear teeth aligners, there is no need for uncomfortable metal brackets and rubber bands.
Drs. Ross and Salazar also use the latest sedation and laser dentistry technology so that patients can receive even advanced dental treatments with little to no discomfort. These new technologies help make it possible for people to receive the care that they've been avoiding due to dental anxiety, and they are described in detail on the new site.
Web visitors can also stay up-to-date on the latest practice news by visiting the Mission Trails Dentistry blog. Practice updates, dental tips, and other resources will be posted periodically to keep patients educated and informed.
About Drs. Salazar and Ross
Dr. James D. Salazar and Dr. Bradley A. Ross have been providing patients with healthy, beautiful smiles at their San Diego cosmetic dentistry practice for over 10 years. Both doctors are Southern California natives. Dr. James Salazar was born and raised in San Diego and attended San Diego State University for his undergraduate degree. He received his Doctor of Dental Surgery (DDS) degree at the University of California – San Francisco.
Dr. Bradley Ross, a native of Burbank, graduated from Oregon State University and from the University of Southern California School of Dentistry. Dr. Ross has been in private practice since 1988 and opened Mission Trails Dentistry in 1997.
Both dentists are members of the American Dental Association, the California Dental Association, and the San Diego County Dental Society. They are committed to continuing education and have completed numerous post-graduate courses on cosmetic and implant dentistry.
For more information about the treatments that are available at Mission Trails Dentistry or to schedule an appointment, the practice can be contacted at (619) 582-9700. Mission Trails Dentistry is located at 6902 Navajo Rd., San Diego, California, 92119.
###