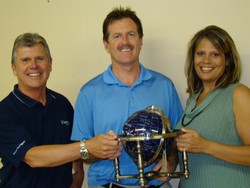 "Travel agencies are an important part of our distribution system," said Carnival's Vice President Joni Rein. "That is why we created the Pinnacle Club to recognize those agencies like Pulaski Tickets & Tours who are truly experts in their field."
Pulaski, NY (PRWEB) April 13, 2010
Pulaski Tickets & Tours, Inc. of Pulaski, New York has received Carnival Cruise Lines' "Pinnacle Award" which recognizes the agency as one of the top marketers of the "Fun Ship" vacation experience.
The program was created by the cruise line to acknowledge those high-volume travel agencies that meet a certain sales criteria and exhibit excellence in promoting and selling the Carnival product .
"Travel agencies are an important part of our distribution system, which is why we created the 'Pinnacle Club' to recognize those high-volume agencies like Pulaski Tickets & Tours who are truly experts in their field and exhibit the highest levels of professionalism," said Carnival's Vice President of Worldwide Sales Joni Rein.
To be eligible for the program, agencies must meet the company's sales criteria, and demonstrate exceptional professionalism, creativity in sales and marketing techniques, and outstanding support of the Carnival product.
About Pulaski Tickets & Tours: Pulaski Tickets & Tours is a fully licensed, ARC appointed host travel agency incorporated in 1991 and located in Pulaski, New York.
###