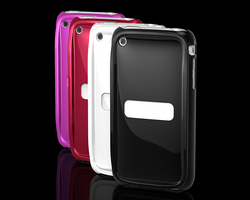 Our case vastly improves the iPhone while protecting it. No one else does this.
New York, NY (PRWEB) April 13, 2010
Dacha Works LLC, the mobile-computer accessories maker, has introduced Module 1.2, the updated version of it's critically acclaimed and wildly successful ergonomic iPhone case.
The revolutionary case has been refined with a pearly, reflective gloss coating on its entire surface, to look beautiful both on and off the iPhone. In addition, Module version 1.2 is now available in two new colors, Pink and Red.
Ergonomic Design, Universally Praised
Since it's release in early 2010, the Module Smartcase has received only positive and glowing reviews. Despite Module's radical shape and it's simple construction, upon using the case every reviewer has been astonished and delighted with Module's powerful effectiveness.
Links to Recent Reviews
http://www.geardiary.com/2010/02/28/review-dacha-works-module-smartcase-for-iphone-3g-and-3gs/
http://justanothergeeksite.com/2010/03/module-for-a-better-grip-on-your-iphone/
http://justanotheriphoneblog.com/wordpress/iphone-case-reviews/review-module-smartcase-for-iphone
Innovation and Design
Since the brand's inception in 2009, Dacha Works has created a new user-centric focus to mobile computing case design. Founded by artist Colin Montgomery, Dacha Works focuses on breaking the "dumb-protector with pretty surface" paradigm that drives nearly all design in the smartphone case industry. Dacha Works avoids awkward-handling, purely protective designs to instead focus on upgrading the form factor of the iPhone itself. Given the Apple® iPhone and iPad's unsurpassed touchscreen interface and diverse App ecosystem, Dacha Works has focused initial product development for the iPhone OS platform.
"What makes the iPhone OS platform unique as a handheld interface is the expanding number of novel ways in which it is used," explains the Dacha Works founder. "The proliferation of apps not only effects content viewed on the phone, but changes the way the iPhone is physically handled. We saw an opportunity to dynamically change the way iPhone accessories are understood, and open wide a new market of use-driven form-factors. Our case vastly improves the iPhone while protecting it. No one else does this."
SRP: $19.99
Availability: In White, Black, Red and Pink, and sporting a glossy hardshell surface, Module 1.2 is available immediately via dachaworks.com.
Press Contacts:
info(at)dachaworks(dot)com
Ph: 646-319-3114
http://www.dachaworks.com
###