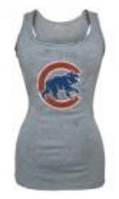 Chicago, IL (PRWEB) April 12, 2010
Through a customized Facebook application, CubWorld.com is offering its Facebook fans five dollars off all online purchases of Chicago Cubs apparel and merchandise. The promotion coincides with the Cubs home opener at Wrigley Field on April 12, 2010.
Cubs fans who are interested in the offer are invited to become a fan of the CubWorld.com Facebook page and sign into the "$5 off" application. Fans complete a brief form and are then given a code to enter when completing their orders on CubWorld.com. The promotion is available once per customer and will be valid for a limited time.
Aside from the promotion, CubWorld.com includes a free, pocket-sized Cubs game schedule with every order. They also offer free shipping on any order over $99 of Chicago Cubs gear and apparel.
In addition to its huge inventory of Chicago Cubs jerseys, shirts, and hats, CubWorld.com also features Wrigley Field webcam footage shot live outside the site's brick-and-mortar store, located across the street from stadium.
###