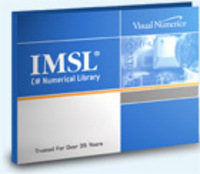 The integration of the IMSL Library with Visual Studio's new Task Parallel Library gives developers performance increases on multi-core machines without additional development effort." said Dr. Ed Stewart, IMSL Product Manager, Rogue Wave Software.
Las Vegas, NV (PRWEB) April 12, 2010
Today, at the Microsoft Visual Studio 2010 Launch Conference and Expo, Visual Numerics, Inc., announced version 6.5 of the IMSL C# libraries. The IMSL C# Numerical Library for Microsoft .NET Framework offers developers seamless accessibility to analytic capabilities alongside the programming productivity and ease of use they enjoy in Microsoft Visual Studio 2010.
As the only numerical library of its kind to offer unprecedented analytic capabilities and charting, the IMSL Library can be referenced from any .NET Framework language including C#, F# and Visual Basic .NET. Version 6.5 of the IMSL C# libraries provides the most comprehensive, high-performing and accessible mathematical, statistical and financial algorithms for the .NET Framework and Microsoft Silverlight 3.
With .NET Framework 4 and Visual Studio 2010, Microsoft has extended the threading capabilities of the .NET Framework with the Task Parallel Library. The IMSL C# Library has integrated these threading patterns into dozens of functions, resulting in easy access to parallel-processing performance increases that take advantage of multi-core hardware.
"Visual Studio 2010, the .NET Framework 4, and the IMSL C# Numerical Library allow developers of analytical applications to harness the significant performance capabilities available through multi-core and many-core hardware," said Keith Yedlin, Product Unit Manager, Concurrency Development Platform, Microsoft. "The IMSL .NET classes are easily referenced from Visual Studio 2010 projects and offer implicit parallelization for nearly linear performance increases when additional processors are available. The IMSL library is itself parallelized with the new support for parallel programming available in the .NET Framework 4."
For more information about the IMSL Numerical Libraries for .NET Framework, please visit: http://www.vni.com/products/imsl/cSharp/overview.php
About Visual Numerics, A Rogue Wave® Software company.
Visual Numerics has provided technical software solutions for numerical analysis and visualization for 40 years and was recently acquired by Rogue Wave Software, a Battery Ventures portfolio company. Rogue Wave is the largest independent provider of cross-platform, embeddable libraries and development tools for HPC application design, testing and deployment. Rogue Wave's tools and components empower software developers to take advantage of the performance and scalability that multi-core and parallel technologies offer, and are proven by decades of use solving some of the world's most complex problems in commercial enterprise, academia, defense, and institutional research.
Rogue Wave Software products include the Visual Numerics IMSL® Numerical Libraries for powerful mathematical and statistical analysis; the SourcePro® C++ libraries for enterprise C++ development; the Visual Numerics PV-WAVE® visual data analysis development environment; the TotalView debugger, ReplayEngine and MemoryScape for parallel software debugging; Stingray® Studio for Windows GUI development and application integration tools. Rogue Wave Software offers consulting services to ensure customer success in delivering enterprise C++ applications and systems providing mathematical, statistical, or visual data analysis. For more information, visit http://www.roguewave.com.
Media Contact:
Tammy Tilzey
Rogue Wave Software
# # #