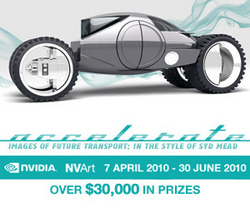 Syd Mead will lead a panel of star judges including Adam Savage and Jamie Hyneman (cohosts of Mythbusters), Mark Frauenfelder (founder of boingboing.net), Kevin Kelly (the founder of Wired Magazine) and more
Adelaide, S. Australia (PRWEB) April 13, 2010
The CGSociety, a division of Ballistic Media, has announced 'ACCELERATE,' a new worldwide contest for digital artists to create futuristic vehicle designs in the style of Syd Mead. "He is a living legend to industrial designers, graphic artists and 3D designers alike," stated David Wright, Creative Director of NVIDIA. "His prolific designs have graced the silver screen in movies such as Bladerunner, TRON, Aliens, 2010, and more. His work has inspired many of the futuristic films movie-watchers know and love."
We are also very proud to announce that Syd Mead will lead a panel of star judges: Adam Savage and Jamie Hyneman (cohosts of Mythbusters), Mark Frauenfelder (founder of boingboing.net), Kevin Kelly (the founder of Wired Magazine), Brian Gernand (Creative Director of Kerner), Lorne Lanning (of Oddworld fame), David Wright (Creative Director of NVIDIA) and Mark Snoswel (President of CGSociety).
The competition was created jointly with the sole sponsor NVIDIA and has a prize pool valued of over $37,000. The first prize is $10,000 cash, plus two NVIDIA Quadro FX 5800 4GB - 240 CUDA Processors . "NVIDIA are a driving force in the graphics industry and this competition is a great opportunity for artists to gain global exposure and a chance to win great prizes," said Mark Snoswel, president of the CGSociety. "NVIDIA have been a constant and significant supporter of the CGSociety and Ballistic Media. They are major sponsors of our CGChallenges and we are pleased to continue to expand our relationship with them."
"We owe much of NVIDIA's success to the talents of digital designers in this fascinating and ever-changing industry," adds David Wright, Creative Director of NVIDIA. "The NVArt competition is just one way for us to say "thank you" and to celebrate the achievements of this amazing community. We're really pleased to have the opportunity to collaborate again with our friends at CGSociety on NVArt."
The deadline for contest submissions is June 30, 2010. Winners will be announced at SIGGRAPH, in the heart of Los Angeles, at the end of July, 2010. For additional details and information on the rules, please visit our competition page (http://events.cgsociety.org/NVArt/05/index.php)
About NVArt
Since its inception in 2008 NVArt has been driven equally by the CGSociety and NVIDIA. It has inspired artists to create some of the most imaginative and stunning work the world has seen. We have also raised the digital art genre to a new level with exhibitions of NVArt in fine art galleries, such as the Tate Modern in London.
About the CG Society
The CG Society is the most respected and accessible global organization for creative digital artists. The CGS supports artists at every level by offering a range of services to connect, inform, educate and promote, by celebrating achievement, excellence and innovation in all aspects of digital art. The CGSociety, along with its sister organisation Ballistic Publishing, is a division of Ballistic Media.
Ballistic Publishing is an independent publisher of books for the digital arts industry. The company established in 2003 is dedicated to producing high quality publications celebrating the talents of digital artists worldwide. For more information, visit CGSociety (http://www.cgsociety.org/) and Ballistic Publishing (http://www.ballisticpublishing.com/)
About NVIDIA
NVIDIA Corporation is the worldwide leader in programmable graphics processor technologies. The Company creates innovative, industry-changing products for computing, consumer electronics and mobile devices. NVIDIA is based in Santa Clara, CA and has offices throughout Asia, Europe, and the Americas. For more information, visit NVIDIA (http://www.nvidia.com)
# # #