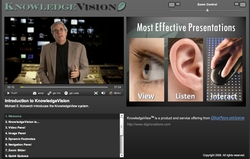 Producers are a critical resource for our clients and we've positioned KVStudio to be a valuable component in every producer's suite of tools.
Concord, MA (PRWEB) April 12, 2010
KnowledgeVision Systems, which markets an enterprise solution for creating on-demand, synchronized video, today announced a new licensing program designed to empower independent video and media production agencies to serve as KnowledgeVision Producers. Under the program, KnowledgeVision Producers will be licensed to use KnowledgeVision's hosted software tools to create interactive web presentations for their clients. KnowledgeVision's new producer program is being introduced at this week's NAB Show in Las Vegas.
Created by Massachusetts-based KnowledgeVision Systems Incorporated, KnowledgeVision enables companies and organizations to create synchronized web presentations using easy-to-use tools that tightly synchronize video, PowerPoint, images, and dynamic footnotes using easy-to-use tools available from any web browser. It was created to serve the world's growing need for on-demand knowledge by creating presentations viewable anywhere an internet connection can be found.
Under the new program, KnowledgeVision Producers have the option of participating in the KVNetwork program at two levels: either as a KVNetwork Member or as a Certified KnowledgeVision Producer. A KVNetwork Member can license KnowledgeVision's proprietary hosted authoring software, called KVStudio, for a low fee that can be recovered with the revenue from just one project. Larger agencies with a higher volume of projects will benefit from becoming Certified KnowledgeVision Producers in order to take advantage of co-marketing programs, additional product features, and volume discounts on hosting of multiple presentations. In addition, Certified Producers receive a commission from KnowledgeVision for any clients that purchase a license for KVStudio after using their production services.
KnowledgeVision adds a layer of valuable context to business-class video. Companies are embracing video as a primary way to train their employees, communicate with partners, demonstrate products for customers and reinforce key business messages during sales presentations. Some companies have the equipment and expertise to create high quality videos internally, but many either don't have the skill set or can't allocate the time required. For these companies, it makes sense to turn to a professional production company to help write and produce effective videos.
A recent report by Aberdeen Group noted that best-in-class companies realized a 186% annual ROI on video solution deployment. KnowledgeVision further increases the value of video by adding related information and context. KVStudio uses the video timeline to synchronize the display of slides, images, and related links as the video progresses. The result is a presentation that is more memorable, more informative and includes the ability to act immediately while viewing.
KnowledgeVision Systems President Rusty Williams explains the synergies that exist between video producers and KnowledgeVision. "Even with the advances in desktop production technology, we recognize that the skills required to create high quality videos are rare. Creating an effective video is art; it's about telling a story that inspires the viewer to respond. With KnowledgeVision, producers can enhance the business value of video by using in-context content and an integrated call to action. Producers are a critical resource for our clients and we've positioned KVStudio to be a valuable component in every video producer's suite of tools."
Several projects are already under way with KVNetwork Producers leading the planning and production of KnowledgeVision presentations. For example, an agency specializing in marketing programs for colleges, is creating "Virtual Open Houses" using KnowledgeVision to emulate the in-person briefings and conversations that prospective students have with faculty members during campus visits. Carosh Media and Marketing of Chicago, Illinois, is developing a robust catalog of continuing education and business-oriented online courses to satisfy the training needs of post acute care providers within state health associations. DigiNovations of Boston, Massachusetts, is building collections of KnowledgeVision presentations for a major strategic consulting firm, and is also producing Continuing Medical Education programs on the KnowledgeVision platform for a regional hospital. Other KVNetwork members are creating marketing presentations to coincide with product launches.
For more information about KnowledgeVision and the KVNetwork Program, visit http://www.knowledgevision.com.
On-line demonstration of KnowledgeVision.
About KnowledgeVision Systems Incorporated
Based in Concord Massachusetts, KnowledgeVision serves the world's growing need for on-demand knowledge by creating rich, engaging Flash presentations that are viewable on the web at any time with any type of computer. KnowledgeVision's hosted authoring tool, KVStudio, enables communication professionals to create presentations that tightly synchronize video, PowerPoint, images, and dynamic footnotes. KnowledgeVision Presentations are used for on-demand training, product demonstrations, marketing, sales, investor relations, and preserving the value of in-person presentations made by companies and organizations around the world.
###