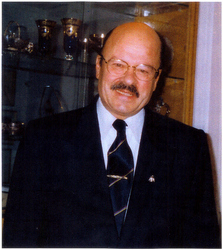 "Jesus Christ is my Lord and Savior"
Orlando, FL (PRWEB) April 12, 2010
Admiral P. Kikareas, President of the World Foundation of Peace and Security, has devoted his life for peace and security among humanity. This time he publicizes his painful testimony as a humble worker of peace in a new book, where he shows the clear evidence that we are very close to a world catastrophe.
The new book published by Admiral P.Kikareas "JESUS CHRIST IS MY LORD AND SAVIOR", may be found in the Website http://www.thecrucifiedlove.com.
In this book Kikareas says that for the first time after 35 years he was permitted to publish how God met him and since then lead his life through different missions.
Admiral Kikareas says this is a MUST read book by all populate of the World because it gives clear evidence that what he writes are lead through the Holy Spirit.
Quotes from the Author:
"God this time has lead me to write a book and reach out all His people on earth, who will hear His voice and recognize Him and listen to Him," said Admiral Kikareas.
"I humbly ask all media and newspapers, magazines, TV, radio stations etc worldwide to help this book reach everyone on earth. The Holy Spirit which lead me to write this is present there and will reach the hearts of all His people."
"I feel every single day that the end of this world that we live in is coming fast."
"Our Heavenly Father has led me through a myriad of narrow paths and threats and used me as His messenger and humble worker to pass His message and ways for the violence to stop."
"For His Peace to come back on the earth and the people to start communicating and stop killing each other."
"For many years he was always present to lead me what and where to go and say. For some time he disappeared and I felt that His Grace had left us alone for the evil to destroy the humanity."
"In a previews press release Kikareas said that there was no mission for him anymore, except to pray to Him to change His mind, and Send our Messiah Jesus Christ to come in Glory and all the knees to bend in front of Him for the last chosen not to be lost."
"Our Heavenly Father who changes His mind if the cries and the tears of His children reach Him, He gave some more time and lead me to write this book for His people to hear His voice and return to Him."
"Unfortunately no one was listening up to now, the evil has been too much and the ego of the humanity thinks that is self-sufficient, or glorify Satan who presents himself as the God of Light."
"The hate and the grid of the people. The so-called soldiers of God, who kill thousands of innocent without mercy. The international organized crime. The crazy extreme leaders. The corrupt governments. The too many careless people, who have become flesh and lifestyle only, living without any soul power to fight for the will of God to come upon the earth. The too many atheists and the human rights, which have overpassed the basic commandments of God, have exiled God from the earth and we are left with ghosts and garlic.
"I was sent by Him and tried my best to pass His message where he was sending me to, but no one could really listen."
"I grieve for the millions of dead, for the humanity that will be destroyed, for the souls that will be lost before to understand like in Nineveh where Jonah preached and they repented and saved, but it will be like in the times of Noah for the most…
"His Grace will abandoned us to our self-destruction, if we don't listen to Him."
"Read His book and listen to Him in order to brink His Grace back". If not then the days are counted and we should all pray from the bottom of our heart 'Oh Lord Jesus Christ Have merci on us', and as in the revelation of John is written, 'Oh Lord Jesus Christ come fast'."
Peter Kikareas
"A humble messenger of God."
The World Foundation for Peace and Security was created by Admiral P. Kikareas to help serve the world and consult governments, finding best solutions for crisis management problems, and also creating ways to avoid major catastrophes.
"Our Lord Jesus Christ, have mercy on us," says Peter Kikareas, Admiral retired.
The World Foundation for Peace and Security requests your assistance in order to save the Humanity.
Contact Information:
Peter Kikareas
Hellenic Aspis & Associates Inc.
http://www.hellasp.com
http://www.thecrucifiedlove.com
# # #