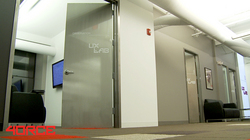 Saint Louis, MO (PRWEB) April 12, 2010
WHAT: This morning, the award-winning creative agency NGAGE officially changes its name to 4ORCE, and unveils the new, quarter of a million dollar 4ORCE UX Lab in downtown St. Louis. The UX lab is a high-tech resource for top companies worldwide. The 4ORCE UX Lab is designed to help companies enhance the user experience for customers and significantly increase their bottom line through the use of digital strategy and usable technology.
This is the first agency UX lab in St. Louis and will be a tremendous asset as companies look to expand and optimize their digital footprint. 4ORCE UX architects will streamline the interaction between a user and a company's brand through state-of-the-art usability testing. The UX lab has the capacity to test the user experience on websites, phone apps, social media sites and much more.
WHEN: Monday, April 12, 2010
10:30 a.m. Press Conference
11:00 a.m. Open House
WHO: Dan Curran, President, 4ORCE
WHERE: The 411 Building
411 North Tenth Street
Suite 300
St. Louis, MO 63101
VISUALS: First Tours of 4ORCE and the new 4ORCE UX Lab

A digital testing environment offers a testing room, control room and observation lounge.
Multiple cameras capture information about how users interact with digital platforms or applications.
Brands can create a digital blueprint of how users experience a website, how they search and where they intuitively go to seek answers.
(Parking for media is available on Tenth Street or in the adjacent garage.)
# # #