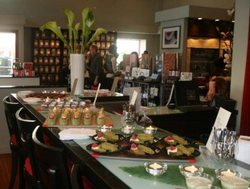 Stop by on your way to the Beverly Hills Farmer's Market
Beverly Hills, CA (PRWEB) April 12, 2010
American Tea Room is pleased to announce a new schedule of tea tasting classes and food related pairings. In order to meet the growing demand for our tea tasting classes and newly introduced tea pairings starting April 11, 2010 American Tea Room will now be open on Sundays from 12 – 5 PM.
Our new tea tasting classes incorporate several of our most requested pairings as well as our usual dose of knowledge, fun and sharing. Now you (and your friends) can become part of our community joining with other tea lovers in our own tea nirvana.
Our tasting events are packed with information about tea and helpful hints to better prepare your favorite brew along with ample question and answer time to provide you with the ultimate in knowledge. Join our teamasters (and teamistresses) while we explore the world of white tea, green tea, oolong tea, black tea and Rooibos tea.
Experience the incredible food pairings with sweet, savory, dairy and decadent selections that enhance and highlight the nuances of these foods and their tea accompaniment.
Each of our tea tasting classes includes all that PLUS samples of the five teas sampled ($30 value) as well as your own personal tea tasting cup ($7.50 value). Once the class is over (in about an hour) we invite you to a personal shopping expedition in our Beverly Hills flagship store with a 20% discount coupon valid for that day.
Reservations are essential. Classes are limited. Call (310)271-7922 or email tea(at)americantearoom(dot)com to reserve your place.
American Tea Room was founded in 2003. We offer the finest and most spectacular teas from all over the globe along with an unsurpassed selection of accessories and accouterments to help enhance your tea experience.
Store Hours: Monday - Saturday 10 AM - 6 PM Sunday 12 PM - 5 PM
# # #