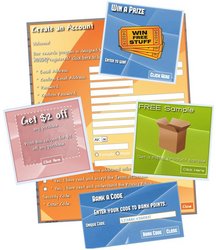 Offering a points-based rewards program enables a brand to increase the value their customers receive. Creating a currency that is unique to your customers will create a higher level of commitment, improving brand loyalty and customer retention
Howell, NJ (PRWEB) April 13, 2010
My Rewards Publisher, LLC., a Loyalty and Promotional Program Platform provider, announced today the launch of its flagship offering, My Rewards Publisher (MRP), a subscription service that allows any business to operate an online loyalty program and run promotional programs such as sweepstakes, coupons, samples and instant-win games, directly from their own website. The service is being offered as Software-As-A-Service on a month-to-month basis without any minimum commitment.
Loyalty and promotional programs give businesses the ability to create comprehensive customer databases by collating and analyzing data points captured during the collection process. These data points can help a business obtain new customers, understand each customer better and increase sales. Additionally, the return on investment for a business utilizing a loyalty and promotional program platform can be realized through:
-Increased customer loyalty to a brand
-Improved response to email communications
-Increased effectiveness of incentive programs
-Additional cross-market opportunities
-Cost-effective market research opportunities
-Increased traffic to a brand website
"Companies that offer points-based loyalty and rewards programs enable their customers to increase the value they receive from that brand. By creating a currency that is unique to its customers, a higher level of commitment and loyalty is created as customers realize that a move to a competitive product or service would mean leaving something very valuable behind", said Steve Esemplare, founder of My Rewards Publisher.
Esemplare went on to say "MRP is based on the fundamental belief that effective marketing programs require building one-to-one relationships with customers - which is why this solution enables a business to create detailed profiles of each customer over time, so that you can continually improve your products and services to them."
"This is not a simple promotional program," continued Esemplare. "MRP is a platform that provides an intelligent activity and workflow process, giving a business the capability to define what promotions are available to a visitor, when they are available, and to create a navigational path that a visitor will follow throughout what becomes a data collection process. One of the things that differentiates MRP is that these processes can be based on any number of user specific data points collected during the engagement process." said Esemplare.
"For example, a sweepstakes entry process can contain conditional logic that will send a specific auto-response email to an entrant based on their age, gender, geographic location or even a combination of multiple data points. MRP provides control that a customer has in defining this process, which is extremely broad and flexible."
The service offers numerous entry templates, giving a business the ability to start a program quickly and easily, while also providing the capability to create new templates to customize the look and feel of all aspects of their programs.
"We think that customized branding by a customer is paramount to their success, and is one of several components of the MRP platform. Our service has the capability to define different page templates for each step of a promotion and this lets customers tailor the look of their promotions based on their response to changing market conditions." said Esemplare.
MRP is hosted on a secure cloud platform. "By utilizing a cloud platform, we are able to scale the service to meet the most demanding promotions," said Esemplare.
A 15-day free trial is available at MyRewardsPublisher.com and it lets a business utilize and evaluate the full capabilities of the platform. At the end of the trial period the subscription is fee-based starting at $295 per month, without any minimum contractual period.
About My Rewards Publisher
My Rewards Publisher, LLC. is a privately held company based in New Jersey, and offers a subscription service that lets businesses operate online loyalty and promotional programs such as sweepstakes, coupons, samples and instant-win games directly from their own website. MRP minimizes the need for in-house staff or equipment by utilizing a Software-As-A-Service (SaaS) model, which lets companies lower their total cost of ownership and increases their return on investment through an innovative, flexible and powerful business resource that functions as an extension of their business.
Contact
MyRewardsPublisher.com (http://MyRewardsPublisher.com)
Media Relations: press@myrewardspublisher.com (800.493.0020)
###