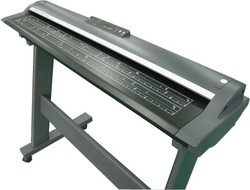 "Colortrac first looked at how ISIS could help to provide better quality solutions for large format application users back in 2002, come and see how our latest systems can fulfil your LF capture requirements using our unique ISIS interface"
St Ives, Cambridge, UK (PRWEB) April 13, 2010
Visit Colortrac at AIIM Expo for the chance to WIN a Win7 compatible 21" multi-touch screen monitor.
To encourage AIIM Expo visitors to find out more about SmartLF scanners and scanning solutions, Colortrac is participating with other leading vendors - Xerox, Canon, Ikon and Kodak - in EMC's Passport Program which offers passport holders the chance to win a number of high tech prizes donated by the program members.
Colortrac's prize entry is HP's first Win7-certified multi-touch monitor, the new HP L2105tm. This 21-inch touch screen monitor features the latest in optical touch support for two point multi-touch controls, like pinch / squeeze / zoom in / out and two finger image rotate, etc.
How to WIN an HP L2105tm touch screen monitor
Simply pick up a 'passport' at one of the participating booths and get it stamped after receiving a product demonstration on a participating booth. Visitors who return Passports containing the stamps of all five participating vendors will be entered into the leading vendors prize draws to be held at the end of the show.
Colortrac's booth at AIIM Expo offers distributors, dealers and end users the opportunity to see live demonstrations of its affordable, industry-leading SmartLF scanning solutions capturing documents via its unique ISIS scanner interface. Visitors will see wide format monochrome and color documents from A4 / A-size up to A0 / E-size being captured via the ISIS interface directly into ISIS-supporting EDC and EDM (electronic document capture / management) solutions.
Colortrac has been engaged in the EDC / EDM markets since it was founded in 1989.
One of the key technologies for document capture in these markets is the Captiva ISIS standard interface for connecting scanners to document management systems. Most ISIS scanners are high speed small format devices but increasingly customers want to transform ALL paper documents, including large format drawings etc, into digital data for processing and storage. As the first and only large format scanner manufacturer to offer large format ISUS support, Colortrac is uniquely placed to provide the solution.
Colortrac first looked at how ISIS could help to provide better quality solutions for large format application users back in 2002. Colortrac's first ISIS driver was launched in 2003. Since then, the opportunity for large format ISIS support has grown consistently as this market matured. In 2009, Colortrac confirmed its commitment to ISIS and developed certified drivers for its latest range of SmartLF Ci 40 scanners.
All scanners using the well-established ISIS interface present the user with the same set of scanning dialog boxes and controls. Anyone using ISIS EDM software to capture documents on a small format scanner can move up to a large format SmartLF scanner and continue to scan using exactly the same scanning software interface. This effortless transition from small to large format ISIS scanning minimizes operator learning time and gives productivity gains from the moment the new SmartLF wide format scanner is introduced.
Today, over 300 document imaging applications support the ISIS standard.
Colortrac's highlight products on display at AIIM Expo include the best selling SmartLF Ci 40 technical imaging scanners and the SmartLF Gx+ 42 graphics scanners. Both of these large format scanners were rated "Outstanding" and "Best in Class" by BERTL, (Business Equipment Research and Testing Laboratory), an authoritative and independent business product evaluator. As the leading innovator in large format scanning, Colortrac is the first and only scanner manufacturer to have achieved a BERTL "Best in Class" distinction for both its CIS (contact image sensor) and CCD (charge coupled device) imaging technology.
Also on display will be two A1 / D-size wide format scanners, the 28" wide, CCD-based SmartLF Gx+ 28 and the new 24" wide, CIS-based SmartLF Ci 24, Colortrac's latest large format scanner. These two smaller devices provide a comprehensive and affordable choice of options for EDM / EDC professionals requiring either high quality color graphics or sharp, technical document scanning.
For full details on Colortrac's SmartLF wide format scanners, ISIS and scanning software solutions, see: http://www.colortrac.com
Visit Colortrac at AIIM Expo during April 20~22, 2010 at:
Booth #2319
AIIM Expo
Pennsylvania Convention Center
Philadelphia
PA, USA
To arrange a demonstration or to obtain further information, contact:
Colortrac Inc.,
4431-A Brookfield Corporate Drive
Chantilly, VA 20151
United States
Phone: +1 703-717-5631
Fax: +1 703-717-5361
URL http://www.colortrac.com
IMAGES
For images to accompany this article, see:
http://www.colortrac.com/press_releases/news_aiim_expo.htm#images
FOR FURTHER INFORMATION CONTACT
Peter de Winter-Brown
Sales & Marketing Director
Colortrac Limited
3-5 Brunel Court
Burrel Road
St Ives
Cambs PE27 3LW
UK
Tel# +44 1480 464618
Email: press(at)colortrac(dot)com
http://www.colortrac.com
ABOUT COLORTRAC
Founded in 1989 and based near Cambridge in the UK, Colortrac Ltd is the leading innovator in professional wide format color scanners and image acquisition software solutions. Colortrac was the first large format scanner manufacturer to recognize the individual merits of CIS and CCD image sensor technology. This realization led to the creation of the SmartLF wide format scanner family in 2004. Colortrac SmartLF large format scanners provide affordable solutions for the divergent needs of the Graphic Arts, Reprographics, AEC, CAD, GIS, EDM and FM technical documents scanning markets. Colortrac Ltd has subsidiary offices in Beijing and Suzhou, P.R. China and in Chantilly, Virginia, USA. Information about Colortrac's products can be found at http://www.colortrac.com.
###