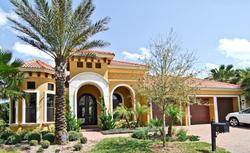 "We're thrilled to expand our real estate offerings in Palencia with these high-quality Arthur Rutenberg collection homes," said Davidson Realty President Sherry Davidson.
Saint Augustine, FL (PRWEB) April 13, 2010
Davidson Realty, Inc., a leader in North Florida real estate, has been selected by Country Club Homes of Florida to market its Arthur Rutenberg residences in Palencia's upscale enclave Monterey. Featuring superior construction and 15 unique designs, the Monterey courtyard-style homes start at $499,000. Davidson Realtors Ted Tyndall and Carol vonRabenstein will represent the Palencia homes at Monterey in St. Augustine, Florida. Says Davidson Realty President Sherry Davidson, "We're thrilled to expand our real estate offerings in Palencia with these stunning, high-quality Monterey collection homes."
Monterey is an exclusive neighborhood surrounded by lakes, nature preserves and golf fairways in the award-winning master-planned golf community of Palencia in St. Augustine, Florida. Its courtyard-style homes are designed for maximum flexibility with a private guest suite, ideal for visiting family, friends or multi-generational living. Homes at Monterey feature distinctive details such as barrel tile roofs, cement block construction and enhanced landscaping. An array of luxurious custom options are available to homebuyers. Buyers choose from 15 different designs, ranging from 2,200 to more than 6,000 square feet. Special features include:
-Concrete Block construction
-Concrete roof tile
-Brick paver driveways and walkways
-Tankless water heaters
-$15,000 Landscape allowance
-Impact windows on the front elevation
-Granite Counter tops in the kitchen and Master Bath
-G.E. Profile Energy Star kitchen appliances including gas
Palencia homeowners enjoy miles of walking trails, an active tennis program, family and fitness pool, fitness center, clubhouse and other world-class amenities. Palencia's 18-hole championship golf course is named among the best in the state, and the neighborhood offers an excellent location near Jacksonville and St. Augustine, major roadways, shopping, medical facilities, and schools.
Led by Rod Kimberley and William Groff, Country Club Homes of Florida, Inc. is an independently owned and operated Arthur Rutenberg Homes franchise, and a respected member of the building and business community. Since its inception in 1995, the company has built a solid reputation in Palencia and Palm Coast, along with more than 200 homes valued at over $300 million. Recently, Country Club Homes won first place in the luxury home category in the Flagler County Parade of Homes.
About Davidson Realty, Inc.
Davidson Realty, Inc. is a leader in Florida real estate, specializing in houses in Jacksonville and St. Augustine. The firm has been at the forefront of Jacksonville, Florida realty for 20 years. From its headquarters at the renowned World Golf Village in St. Augustine, Florida, Davidson Realty markets and sells residential and commercial projects in Jacksonville, St. Augustine and the surrounding areas. Davidson's founders are the original developers of World Golf Village and the company remains the hands down experts on golf course homes and golf communities in Florida. Davidson Realty has more than 30 Florida Realtors helping buyers and sellers alike. The majority of Davidson Realty agents hold the Certified Distressed Property Expert (CDPE) designation, providing special expertise for navigating through the changing climate of short sales, foreclosures and distressed properties. In addition, Davidson Property Management handles leasing for Jacksonville and St. Augustine homes. And Davidson Development specializes in large scale development opportunities.
For more information about Davidson Realty, call 904-940-5000 or visit http://www.DavidsonRealtyinc.com, Fan them on Facebook at http://www.Facebook.com/DavidsonRealty, follow them on Twitter at http://twitter.com/DavidsonRealty or visit their videos on YouTube at http://www.youtube.com/user/DavidsonRealtyInc.
# # #