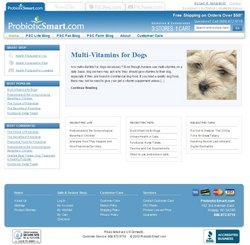 Integrating digestive and immune system health into all aspects of our lives has never been so easy and affordable. ProbioticSmart.com has truly changed our lives.
Knapp, WI (PRWEB) April 13, 2010
Probiotics are quickly being recognized as a great way to boost immune system functioning and improve overall digestive health. The development of probiotic products in the marketplace is occurring at such an extremely fast rate that most consumers are left feeling confused regarding which claims are fact and which are fiction as well as which products make for good investments with which to put into their bodies and which are not. It is ProbioticSmart.com's expressed intent to inform consumers about the latest developments in probiotic science as well as to offer the very best "tried and true" probiotic products that these scientific findings support.
On April 7th, 2010 ProbioticSmart.com launched their new website which now includes 3 seperate online stores offering digestive health products for people (psclife.com), health products for pets (pscpets.com), and products for livestock (pscfarm.com).
"The customer service representative I had spoken with was very friendly, knowledgeable, and courteous while helping me select the proper nutritional supplements for my dog (which are working excellently, by the way). It's been a very long time since I've been treated well...What a great company & employees you have." - Marcie Milazzo of New Rochelle, New York.
Expanding to a broader range of products, improving the site's "customer-friendliness", and minimizing shipping costs to the consumer were the three primary focuses of the redesign. By examining the positive feedback that ProbioticSmart.com has received to this point, it's obvious that they've hit the mark with all three.
The new ProbioticSmart.com features what they call "PSC Points" which are similar to frequent flyer miles...customers receive additional credit for making purchases as well as for performing actions such as signing up for an account, signing up for their newsletter, writing reviews, rating products, and commenting on blog posts. PSC Points can then be applied towards future purchases.
"We have a great team here-experts, dedicated to quality and customer satisfaction", says CEO Raj Lall. "We have the best partners in the industry,including Bomac Laboratories Ltd.-the largest veterinary pharmaceutical company in New Zealand, with exports around the world-and Chr. Hansen, the world's top producer of probiotic cultures and supplier to 90% of the world's yogurt industry and 80+% of the world's cheese producers...Our product, people, and partners bring us the true secret of our success: loyal customers."
Visit the new ProbioticSmart.com website today...Sign Up For A Member Account to receive 50 PSC Points free of charge.
# # #