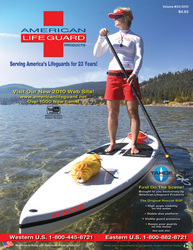 We know that by bringing new products into the market place we can better equip lifeguards and rescue personal to save more lives
Ft. Lauderdale, FL (PRWEB) April 14, 2010
American Lifeguard Products, LLC., a leading provider of lifeguard equipment and EMT medical supplies proudly announces their exclusive release of the rescue standup paddle board.
Stand up paddle boarding has exploded on the scene in the last year, becoming well known among surfers and outdoor recreationalists. But these powerful boards can be used for more than just recreation.
American Lifeguard sought to utilize the boards for a slightly different purpose, creating the first ever rescue stand up paddle board for lifeguards and search and rescue teams. "We want to position ourselves as a company that's always innovating for lifeguards and rescue teams. We know that by bringing new products into the market place we can better equip lifeguards and rescue personal to save more lives," said owner Jeff Traughber. "We're pretty excited about that!"
The rescue stand up paddle board, RESCUE-SUP for short, is a very stable, high buoyancy board that ranges in length from nine feet up to fifteen feet. In addition to its stability, the board also gives lifeguards an advantageous view from the water, making it easier to spot people and potentially dangerous situations. Lifeguards can also move much faster on the rescue paddle board than by swimming.
"We're proud to be working with Tahoe SUP to be able to offer this lifeguard equipment to organizations around the country. We want to lead by example and this is the first of many products we're working on to help lifeguards and rescue teams save more lives."
###