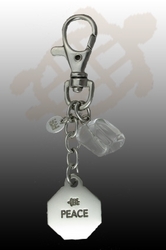 Women are more susceptible to stress and looking for coping mechanisms. Inspirational jewelry is gaining in popularity as a way to to stay focused on positive thoughts.
Pasadena, CA (PRWEB) April 14, 2010
Artist and designer Rena C. Campbell, has launched an emotive range of inspirational silver charms inspired by Feng Shui, which is all about flow and balance in one's life. Inspirational jewelry is enjoying a rise in popularity in today's stressful climate. Since research shows that women are more susceptible to stress as a result of hard times, these charms make a perfect Mother's Day gift.
According to a study from the American Psychiatric Association more than two-thirds of women say that the nation's sagging economy has negatively affected their lives and the majority of them are looking for positive coping strategies. Positive thoughts and emotions have other benefits too - a study from Carnegie Mellon University in Pittsburgh, Pennsylvania found that positive emotions impacted people's ability to fight colds and flu. Doctors say that keeping a calm centre and maintaining an upbeat attitude has such a powerful effect on our lives that it can even be a cancer beater.
Remaining positive in these troubled times can be a challenge. Psychologists and spiritual healers suggest it may be easier to find self-affirmation with the inclusion of a focal point. The artful rendering of the nine Feng Shui paths on a silver inspirational charm, can provide that focus for sustained positive thought.
Rena's creative drive has led to a seven-year long journey to get the inspirational charm just perfect. Whether they have Imagine, Love and Peace or even Health near them, wearers of the Turtle inspirational silver charm say it gives them a lift when they need it most. Besides the obvious life path affirmation, the patina of the charm develops as its owner rubs it and connects to it over time, like a child remembering a favorite stone stolen from a moment at the ocean.
Watch a video at http://www.youtube.com/watch?v=VgMDP0MVa_U.
Whether you are looking for a stress-relieving boost for Mum on Mother's Day or just a focal point for someone on a personal journey, an inspirational charm may be just the thing to show you care. For more information on the inspirational jewelry visit http://www.TalkToTheTurtle.com
# # #