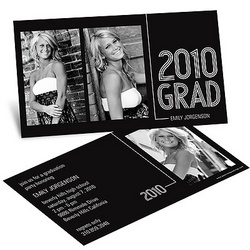 Mankato, MN (PRWEB) April 14, 2010
High school graduation marks the end of an eighteen-year journey for a child, often filled with trials and triumphs. It also marks the beginning of a new, exciting chapter in life.
To honor both the past and the future journey, Pear Tree Greetings, a top manufacturer of personalized cards and photo graduation invitations, is hosting the 'That's My Grad' online contest now through May 28. Parents of high school graduates have the chance to win $5,000 for their child's future by simply doing what they love most - talking about their kids.
"At Pear Tree Greetings, our graduation invitations and graduation announcements allow us to tell a child's story through personalized stationery. But as parents ourselves, we always know there's a deeper story to be told that doesn't necessarily fit in a graduation invitation or card. . Entering the 'That's My Grad' contest is not only the perfect way for parents to share their child's story and celebrate their accomplishments, it gives them an opportunity to win a significant amount of money to go towards their child's dreams," said Liwanag Ojala, president, Pear Tree Greetings.
And that $5,000 prize is to be used to support the graduate's future plans, whether that includes college, traveling, volunteer work or another passion.
Parents of high school graduates simply go to the contest web site answer three questions about their child and encourage online voting, as the graduate with the most votes wins the cash prize.
"As parents continue to share their graduates' unique experiences and future plans, we hope others will be inspired and intrigued by the different paths every child takes. We're eager to incorporate these stories in our graduation collection," said Ojala.
Please visit http://www.GraduationContest.com for contest details, rules and entries.
About Pear Tree Greetings
Established in 2008, Pear Tree Greetings designs, produces and distributes stationery for weddings, holidays and an array of other special occasions. Pear Tree Greetings enables consumers to send unique cards at affordable prices via an online card creation and personalization feature. With a production staff of more than 50 years of printing experience, Pear Tree Greetings offers top trends and quality printing within the industry.
It also hosts a blog that presents new product ideas, highlights personalization tips and allows consumers to share ideas. For more information about the company, please visit http://www.peartreegreetings.com
###