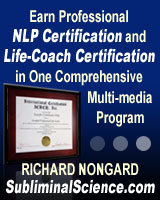 "This program integrates NLP Certification with Life Coach training offering materials in a convenient homestudy program"
Scottsdale, AZ (PRWEB) April 14, 2010
Life coaching is one of the fastest growing career fields for those who want to apply methods of rapid transformation, whether when working with people seeking to enhance individual performance, or groups desiring to build effective teams in a rapidly changing world.
Peachtree Professional Education, Inc., a leader in professional continuing education training since 1994, has released a new multi-media home study program that offers simultaneous certification in both NLP and life coaching. The program's creator, Richard Nongard, is a licensed psychotherapist and is the author of many books on hypnosis, psychotherapy, and transformational change. The complete program can be found at http://www.NLPCertificationBoard.com and is now available.
In a recent interview, Nongard said, "Until now, life coaches were somewhat exposed to the NLP toolsets during class, and NLP certification courses often mentioned the possibility of life coaching, but our program is the first I am aware of to integrate both training systems into a comprehensive toolbox with practical applications."
NLP is a strategy for generating effective individual awareness and interpersonal communication, which gained widespread acceptance in both the therapeutic and business communities in the 1980s. Life coaching is a profession that seeks to help people maximize their potential. The certified life coach approach differs from traditional therapy in that it does not attempt to fix pathology, but rather maximizes individual and group strengths to reach goals. Nongard explains, "The integration of both models of helping (NLP and Life Coaching together) is essential as both modalities move into new eras of personal and professional significance."
The new intensive multi-media program was created especially for the at-home learner, and utilizes video, audio and text-based educational content. Nongard says his new program is unique, in that it imparts a wide variety of strategies based on traditional NLP teachings, but also covers the fundamentals of metaphysics, hypnosis and transpersonal psychology, a combination designed to ready a life coach to assist more and varied client needs. "A holistic approach that is willing to take what works from a variety of sources and apply it to individual change truly promotes the idea of maximizing individual differences. This perspective helps the coach to focus on helping a person unlock solutions to even the most pressing difficulties, by implementing strategies based on their personal strengths."
To date, this new certification training program has been Nongard's most successful educational offering. Hypnotists, psychotherapists, life coaches, motivational speakers and corporate consultants are all choosing to complete this coursework and become a Certified NLP Practitioner and Certified Professional Life Coach (CNLP-CPLC) by the ICBCH because of the very practical approach the program offers.
More information on learning how to become a certified life coach and master NLP practitioner can be found by visiting http://www.NLPCertificationBoard.com.
###