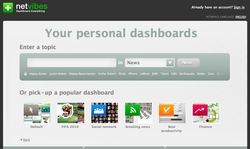 "It's not a search engine. It's a dashboard engine." Freddy Mini, CEO, Netvibes
San Francisco, CA (PRWEB) April 13, 2010
With the acceleration of the real-time Web, people are looking for a way to monitor and keep up-to-date on everything about topics that matter to them, without having to dig through an endless list of yesterday's search engine results. Today, Netvibes (http://www.netvibes.com ), the personal dashboard publishing platform for the Web, launched Instant Dashboards, the world's first "dashboard engine" and the fastest way to monitor everything related to any topic in real-time. Users simply enter a keyword to pull up an instant dashboard that automatically collects all of the latest photos, videos, news, feeds, search results, Twitter conversations and more around that topic. Instant dashboards are automatically updated in near real-time, so users are always up-to-date on all the topics they want to follow.
"With the explosion of real-time content, search just isn't enough anymore. Often times, people don't want to dig through outdated search results, especially for topics and websites they check everyday. From trending topics to their favorite sports teams, people want a faster and better way to see the very latest news, photos, videos and tweets related to special topics all in one place," said Freddy Mini, CEO Netvibes. "Netvibes Instant Dashboards lets people dashboard everything in just one click, instantly letting them follow the entire real-time Web around topics that matter to them the most. It's not a search engine. It's a dashboard engine."
With Netvibes Instant Dashboards, users simply enter in a keyword, just like a search engine. However, instead of search results, users will get a beautifully designed, smart dashboard filled with all of the latest real-time content about that topic--the very latest Twitter conversations, RSS feeds, news, videos, photos and more. Users can then browse and read all of this content directly within the dashboard using the Netvibes Smart Reader, the 2-in-1 reader that lets people view real-time content in magazine-style widgets or in an endlessly flowing RSS reader. Moreover, users can completely personalize the look and feel of their instant dashboards and add more content from the Netvibes Ecosystem, the Web's largest collection of official widgets and content feeds.
Users can dashboard everything in just a single click, save as many different instant dashboards as they like, and share them with friends. It's a whole new way to instantly monitor and track sports teams, businesses, competitors, celebrities, political issues or the latest trending topics without having to dig through search results and browse from site to site.
Try the world's first dashboard engine today at: http://www.netvibes.com
About Netvibes (http://business.netvibes.com)
Founded in 2005, Netvibes pioneered the first personal dashboard publishing platform for the real-time Web. For consumers, Netvibes.com is the most awarded dashboard engine that helps millions of people around the world instantly dashboard everything that matters to them most. For agencies and publishers, Netvibes' universal widget technology (UWA), widget distribution services and Premium Dashboards help rapidly deliver brand observation rooms and user-personalized marketing campaigns. For companies, Netvibes Enterprise delivers secure, scalable personal workspaces, portals and industry dashboards.
Today, Netvibes powers personalization for more than 1,500+ of the world's leading brands, interactive agencies, government organizations, non-profits and enterprises--serving more than half a billion widgets every month. Netvibes has offices in Paris, London and San Francisco.
Media Contact:
Vincent Chang
+1 (415) 684-8116
vincent(at)netvibes(dot)com
###