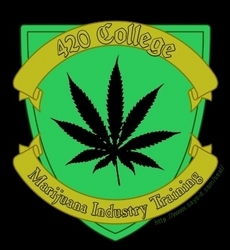 The students of 420 College have been applying their skills through entrepreneurial efforts.
Los Angeles, CA (PRWEB) April 13, 2010
420 College (http://www.420college.org), the premier medical marijuana school in California, offers an all encompassing educational program for people who are interested in becoming a part of the thriving medical marijuana industry.
After their first year in business, 420 College has had over four-hundred students pass through their program, and acquire the training it takes to become a medical marijuana professional. The school's success is dependent on what makes them different from other institutions of this nature.
Not only does 420 College provide an extensive education through all the in and outs of the business, but they also give their students other essential resources. The school helps both their students and the medical marijuana industry itself. In that, they make it possible for people in the program to connect with and gain knowledge from industry professionals of all types, including lawyers and licensed medical marijuana doctors, and provides the industry with individuals who want to be involved.
The students of 420 College have been applying their skills through entrepreneurial efforts. Business ownership is one of the most popular topics for the school, and they also offer resources for individuals to get into business for themselves.
These include a wide range of business start-up options, including:
-Medical Marijuana Dispensaries
-Medical Marijuana Delivery Services
-Non-Profit Medical Marijuana Collectives
-Medical Marijuana Co-operatives
-Medical Marijuana Cultivation Centers
There are other business models to follow, and new fields, such as producing increasingly popular edible marijuana products, are quickly cropping up. Students have also started or have become associates of non-profit and collective based organizations, whose activities range beyond cultivating and dispensing, to advocacy and addressing issues specific to the medical marijuana community. The focal point for the school is to help people join in what is being seen as the new industry that could help revitalize the economy.
Through connecting their students with experienced industry professionals, 420 College is helping build a supportive structure within the medical marijuana community, which reinforces it's ability to give back on the local level. Many of these entities provide great services to the local community in the area of jobs, local revenue, and by providing care to medical marijuana patients in the immediate area.
420 College offers an array of class subjects that are customizable upon the needs and interests of the individual. They provide a series of educational seminars, as well as one-on-one and online sessions, which approach all subjects under the medical marijuana umbrella.
The people who attend the 420 College program are putting their skills to use in many areas of the trade. The program not only teaches skills, but helps each student pick the correct path for their interests, and puts various tools for success at their disposal.
For more information on 420 College, click here. Or visit http://www.420college.org
###