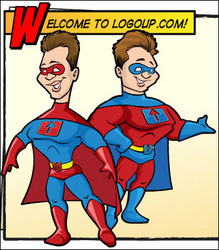 "When I look in the mirror every morning, I often think I have what it takes to be a crimefighter."
Boca Raton, FL (PRWEB) April 13, 2010
When Brian (28) and Scott Roberts (23) fastened bath towels around their necks and pretended to be superheroes as boys, they did not know it would be the impetus for transforming their father's custom logo embroidery business.
"When I look in the mirror every morning," Brian Roberts says, "I often think I have what it takes to be a crimefighter. Fortunately for my personal safety, I decided to channel this need into a brand-new marketing approach for my logo apparel business." Pairing up with Al Rodriguez of alrodstudio.com, Brian and his brother Scott set out to create an entire cast of characters that would represent the good and evil parts of the business uniform arena, including heroes and villains. Browsing the 'Enemies of Excellence' section on LogoUp.com introduces customers to super-villains that each represent the downsides of ordering from LogoUp's competition, like Ralph Macho, the Minimum Order Enforcer, and Hilda Hidden Charge, who has a magical sewing needle that adds charges on every shirt it touches.
"Often times the logo embroidery business is a rather boring affair, where sewing machines operate in garages and merchandise is pushed out the door without any flair or humor," Brian says. "LogoUp is the way for me to continue my father's business successfully, the way he would have wanted, while still addressing the marketing needs of the internet age."
Brian and Scott Roberts took on the mantle of RJ Roberts & Co. when their father tragically passed away after a battle with cancer in 2004. After surviving the recent recession, these two can-do brothers are back in a big way with the premier of LogoUp. LogoUp's plans include an iPhone app, starring all the characters from the website, (but not Steve Jobs) and a viral video involving puppets doing very naughty things to the LogoUp International Headquarters copy machine.
As Brian sees it: "We're incredibly excited about our new marketing approach, but our customers know that if at the end of the day we can't delivery strong value on embroidered logo shirts, hats, and apparel, all this work will have been for nothing. I can't wait to prove to the market how exciting our industry can be."
While much of its competition offers no-name shirts, LogoUp has premium offerings from Nike, IZOD, Calvin Klein, Adidas, and Van Heusen. The brothers plan to expand their site into specific industry solutions, like automotive, tech, hospitality, and construction. Only time will tell where this heroic pair can lead their business.
Scott Roberts is currently an advertising major at the University of Florida and full-time VP of LogoUp, and Brian Roberts is CEO of LogoUp.com.
Contact:
Justin Hearn, director of marketing
jhearn(at)rjroberts(dot)com
1181 S Rogers Cir Suite 10
Boca Raton FL 33487
800-521-6022
###