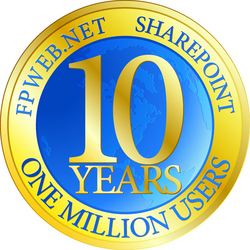 "We were the first in the world to host SharePoint in 1999, and now we'll be pioneering yet again as the first to offer hosted SharePoint 2010."
Saint Louis, MO (PRWEB) April 14, 2010
Fpweb.net, the world's first and largest hosted SharePoint provider, is gearing up for the highly anticipated launch of hosted SharePoint 2010, scheduled for Monday, April 19th. Hosted SharePoint 2010 Foundation from Fpweb.net, now available for pre-order, will be available days before Microsoft's official release of SharePoint 2010.
"We can't put into words how excited and honored we are for the opportunity to not only help Microsoft with the research of SharePoint 2010, but to be the first to host it as well," said Rob LaMear IV, CEO of Fpweb.net. "This is a huge milestone in our ten plus years in the SharePoint community and something that we couldn't have achieved without our brilliant engineers. We were the first in the world to host SharePoint in 1999, and now we'll be pioneering yet again as the first to offer hosted SharePoint 2010."
While the official release date of SharePoint 2010 is slated as May 12th, 2010, Fpweb.net will be hosting the new product almost an entire month early. Their extensive SharePoint knowledge has lead to recent opportunities like conducting SharePoint 2010 research for Microsoft and has continued to keep the SharePoint momentum going since first hosting SharePoint in 1999.
"It's taken a lot of hard work and talent to get where we are today and I couldn't be more proud of who we are as a company," stated LaMear.
With more than 1,000,000 users in 80 countries, Fpweb.net is the SharePoint hosting industry leader with over a decade of pure SharePoint experience. Widely known as the SharePoint Hosting Pioneer™, Fpweb.net has an excellent reputation of having the most industry knowledge regarding anything SharePoint. Their unique SharePoint Cloud solutions boast a SuperFast™ network and SAS70 data centers in addition to offering complete server control and add-on SharePoint applications. Trusted by the best, including the US Air Force, DOW Chemical and the American Red Cross, this premiere SharePoint hosting company can cut your I.T. costs by 60% and deploy in just days.
For more information on hosted SharePoint 2010, visit http://www.fpweb.net or call 866.780.4678.
# # #