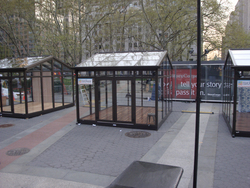 "We built these sunrooms for a popular television show and we would like a family somewhere in North America to own a piece of that history," James F. Ruppel, marketing director for Four Seasons Sunrooms and Windows
Holbrook, NY (PRWEB) April 14, 2010 -
Four Seasons Sunrooms, North America's Premier Sunroom Manufacturer, is hosting a contest to give away one of three beautiful Cathedral-roofed sunrooms it recently built in New York City. Anybody in North America can win one of these glass-roofed sunrooms just by entering.
Four Seasons recently built three identical Sun & Stars sunrooms in historic Foley Square in Manhattan and is now giving away one of them! To enter, visit SunroomGiveaway.com and upload a photo or video of your home and describe why you want a sunroom and how you would use it. Then, get all your friends to vote for your entry and you could be selected as one of the finalists in the contest. The final judging of the top-rated entries will be decided by a panel of experts at a later date.
"We built these sunrooms for a popular television show and we would like a family somewhere in North America to own a piece of that history," James F. Ruppel, marketing director for Four Seasons Sunrooms and Windows said. "There was a tremendous amount of interest from passersby when we built these rooms in New York City, but we didn't want to limit this to just New Yorkers, so everybody in North America has a chance to own the premier year-round sunroom through this contest."
Foley Square is a historic section of downtown New York City dominated by the United States Courthouse, fronted by the Triumph of the Human Spirit Memorial, the New York Supreme Court, the Church of St. Andrew, the U.S. Courthouse, the New York Municipal Building, two Federal Office Buildings and the Court of International Trade.
Four Seasons Sunrooms has been building the premier year-round sunrooms, patio rooms, conservatories and solariums for over 35 years. In hundreds of styles from solid roof patio rooms and straight and curved eave glass-roofed sunrooms and solariums, to cathedral-roofed sunrooms and conservatories, Four Seasons offers a room addition for every home's architectural style or homeowner's design sensibility. Made from materials as diverse as sleek aluminum, energy efficient vinyl cladding and even warm natural wood interiors with a low-maintenance aluminum exterior, Four Seasons has the largest and most comprehensive selection of year-round glass additions in the world.
Made with the company's exclusive ConservaGlass Select™, all Four Seasons Sunrooms can be heated and cooled using ordinary HVAC equipment to ensure they are warmer in winter and cooler in summer. Four Seasons' ConservaGlass Select™ is so strong and durable, the company offers a Transferable Lifetime Warranty to protect not only the original owners, but future owners down the road, ensuring a Four Seasons Sunroom will maintain its value for years to come.
The sunroom Four Seasons is giving away is one of its most popular models. With a soaring Cathedral Glass Roof the Easy Living Sun & Stars Cathedral Roof Sunroom with Four Seasons' exclusive ConservaGlass Select™, offers unparalleled views and a spacious feel that brings Outdoor Living... Indoors in climate-controlled comfort. Based on the Easy Living Series 230 Sun and Stars Room Straight Eave Design, this room offers double the space and light by essentially marrying two of them back-to-back to create a soaring glass ceiling and breathtaking peaked front wall of glass.
Views of the sun and stars through an energy-efficient glass roof offer outdoor living with all the climate-controlled comfort of indoors. These rooms add excitement to lives by not only offering beautiful views of the sun and stars during pleasant weather, but also enable them to experience a rain or snowstorm as if they were outdoors in the middle of it, while securely protected from the elements indoors
From outside, the majestic roofline adds drama and elegance to any home's appearance. The peaked roof complements most residential architectural styles while adding character and grace to your home. The Four Seasons Sun and Stars Cathedral Roof room is sure to become the most lived-in room in the house.
Four Seasons manufactures and ships the premier year-round glass room additions, sunrooms, conservatories and patio enclosures; replacement windows and doors; patio covers and carports; screen and porch enclosures; wood and aluminum pergolas; and retractable awnings to over 300 independently owned and operated franchises, dealers and company owned and operated locations worldwide. Four Seasons has been setting the benchmark for quality and innovation at competitive prices that other companies aspire to achieve for over 35 years.
NOTE TO EDITORS: High-resolution (300+ dpi) images are available to augment and illustrate this information.
###