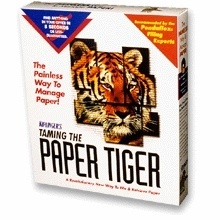 "Finally, everyone including our Mac customers can use The Paper Tiger software. We are excited to have an online solution that makes it so easy for our customers to start solving their problems with paper!", says James D. Grady, President & CEO
Atlanta, GA (PRWEB) April 14, 2010
For the past fifteen years (since 1995), The Paper Tiger Document Management Software & Filing System has set the standard for helping companies and individuals get control of something they hate...filing the paper on their desk and in their office. Now, The Paper Tiger software is being put "in the cloud" and made available worldwide on the Internet (SaaS - software as a service).
Now anyone can start solving their problems with the paper in their office in 30 seconds or less. If a messy desk is a problem, if members of your team want to be able to quickly and easily share information in the office or if you are wasting too much time each week looking for lost information, then The Paper Tiger Online might be for you. The new filing system product is designed for anyone who wants to get a better handle on the paper-based information in the office. Currently tens of thousands of organizations worldwide use the existing desktop (client) version of The Paper Tiger software.
The Paper Tiger Document Management Software and Filing System is a very powerful, yet simple indexing system for paper office files. It works like a search engine for paper files to help companies and individuals stay organized! People using the software can save over 150 hours per year by eliminating the time-consuming task of looking for lost information. The Paper Tiger Document Management and Filing System software uses the power of the computer to index the hanging file folders in office file cabinets. This method works much better than old-fashioned alphabetic methods and is a great alternative to costly scanning and imaging solutions.
"Finally, everyone including our Mac customers, can use The Paper Tiger software. We are excited to have an online solution that makes it so easy for our customers to start solving their problems with paper!", says James D. Grady, President & CEO of The Monticello Corporation, the makers of The Paper Tiger Document Management and Filing System software. "Starting a new FREE account with The Paper Tiger Online takes about 30 seconds and can save a businessperson 150 hours per year in lost productivity trying to find the paper in their life", Grady continues.
Tens of thousands of companies, government agencies and non-profit organizations around the world use The Paper Tiger Document Management and Filing System software to get organized and manage their office filing tasks much more productively. What most people do not know is that there are only 5 things you can do with a piece of paper – (1) Toss It (2) Stack It (3) File It Alphabetically (4) Scan It or (5) Index It using a product like The Paper Tiger Document Management and Filing System software. The paperless office never quite made it to reality, alphabetic methods quickly break down and become out-of-date, and scanning solutions are costly and very difficult to implement. Also, many documents (signed contracts, presentations, etc.) must be kept in their original paper form. Some people are uncomfortable with scanning documents due to the possibility that they could lose everything in the event of a technical malfunction. For a complete list of these options and the pros and cons of each, see our Document Management Decision Guide.
The new Paper Tiger Online is currently in beta testing and should be available in the next 60 days. Professional Organizers, Virtual Assistants and all interested people are invited to join The Paper Tiger Online beta testing program. To celebrate the fact that The Paper Tiger, with the release of the online edition, will now work for our Mac customers, we are giving away an Apple iPad approximately every 60 days. Go to The Paper Tiger website for more information on The Paper Tiger Online and to enter the Apple iPad contest.
About The Monticello Corporation, makers of The Paper Tiger Document Management and Filing System software.
Founded in 1995, The Monticello Corporation's mission is to enhance its customers' businesses and personal effectiveness by providing the training, tools and motivation to help them solve their problems with filing and document management. The company's main product, The Paper Tiger Document Management and Filing System software, was created as a type of inventory management system (like a chart of accounts) for physical hanging files (you know, the green, yellow, blue and red ones in your file cabinet!)
Monticello got its name from the legendary home of Thomas Jefferson, U.S. president from 1801-1809. An avid collector of books and music, Jefferson transferred his personal library of more than 6,000 volumes to the Library of Congress in 1815, doubling its size and permanently expanding the scope of its collections.
Contact:
James D. Grady
President/CEO, The Monticello Corporation
http://www.thepapertiger.com
Toll-free Phone: 866-701-1561
###