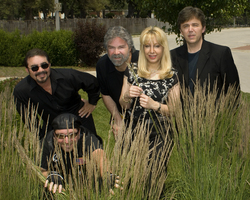 Brian Ray, guitarist of Paul McCartney's band, has called "Sweet Dreams in the Rain... Epic! I couldn't help but think ELO!"
Chicago, Illinois (PRWEB) April 14, 2010
The Pondhawks Have Landed...
The PondHawks are an original band from Chicago who are changing the style of pop/rock music. Catchy melodies are exhilaratingly fresh and Beatlesque. The songs are delightfully infectious with playful lyricism that is exuberant and gutsy. The band's arsenal of music takes the listener on an eclectic journey into Indie Rock spirited by Classic Rock influences that transcend the boundaries of contemporary music. You could say The PondHawks have created a new music genre.
The band has a unique contemporary retro rock sound with signature vocal harmonies reminiscent of The Beatles, ELO and Wings. The album has a bit of humor, ear candy, stellar rock 'n' roll and outstanding musical finesse.
Radio stations across the U.S. are playing the album in heavy rotation, with the band charting in the top 40 on playlists.
The band's song "Midnight Howl" won the prestigious WGN-TV (Superstation) "Battle of the Bands" shortly after it was written by PondHawk, Mario Novelli. A video for the song was shot by famed videographer Randy Reisen who has shot videos for Paul McCartney and Bon Jovi. The video is available on the New Musical Express (UK) site, Youtube, Myspace and AOL music.
There are even industry aficionados who are praising the group's musical prowess. Brian Ray, guitarist of Paul McCartney's band, has called "Sweet Dreams in the Rain... Epic! I couldn't help but think ELO!"
The PondHawks spent two and half years working on their highly anticipated debut album, The PondHawks Have Landed, released March 2010. One of the songs, "Dragonfly" is featured on the International Pop Overthrow Vol. 12 album and has racked up over 89,000 plays on the band's very popular Myspace page.
The band's music has been played on London radio stations as well as stations in the U.S. "Crying Hyena" written about gold diggers, became an instant hit among Paul McCartney fans who thought the song was about McCartney's ex-wife Heather Mills. London tabloids referred to the former Mrs. McCartney as a "hyena". A video for "Crying Hyena" is posted on YouTube and MySpace featuring Snowball the famous dancing cockatoo seen on The Late Show with David Letterman and Animal Planet.
The PondHawks will be playing The International Pop Overthrow Festival in Chicago (April 24th @ The Spot), Milwaukee (May 9th @ Linneman's), Los Angeles (August 2nd @ The Cat Club) and Boston this November.
To read more about The PondHawks go to: http://www.myspace.com/thepondhawks
Contact The PondHawks for interviews and press materials: thepondhawks(at)myspace(dot)com
###