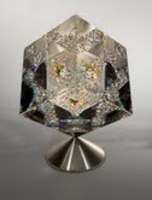 is a respect for the creative spirit. Paul sees God's artwork in nature, and I surround it with light.
New York, NY (Vocus) April 14, 2010
This weekend's New York's 2010 SOFA art fair will showcase the collaborative work of Jon Kuhn, the world's foremost cold glass sculptor, and Paul J Stankard, a glass artist known globally for his richly realistic flameworked florals. "SOFA is about bringing together in one place artists who use traditional mediums to explore the ever expanding boundaries of creative self-expression," says Kuhn. "It's the most exciting collection of glass objects d'art on the planet, and we are pleased to be able to showcase our work together here in a uniquely beautiful and spiritual way."
Stankard's delicate visions portray nature's quiet moments in meticulously created, lampworked crystal. Each detailed floral study, which the artist likens to a Walt Whitman poem, is encapsulated within small globes and paperweights as well as somewhat larger columns and cubes whose black backgrounds help draw the eye and challenge it to look deeper, searching for more. And there's much to discover in Stankard's work, as the eye explores three dimensions of impossibly intricate floral biology that sometimes even includes hovering honeybees.
Kuhn works entirely with cold glass, and his pieces are no less deep and dramatic, although on a different scale, which ranges from glittering six inch cubes that spin off shards of rainbow color into the surrounding space to truly monumental works of glass and stainless steel for outdoor settings -- not to mention the million dollar Kuhn-Bösendorfer grand piano inlaid with Jon Kuhn's radiant jewels. While Stankard works with colored glass tubes, an oxygen torch and a hotplate, each "Kuhn" is crafted from optical grade crystal by an extraordinary team of craftspeople under the artist's watchful eye in his well-equipped North Carolina studio, using a fascinating and complex process of cutting, polishing, gluing and shaping glass into the mesmerizing geometrics Kuhn is famous for.
For the SOFA exhibit, Kuhn's architectural style is married to Stankard's intimate one in a collaboration that Kuhn says opens a wider window on his friend's work. The two met at a Renwick Gallery (Smithsonian) exhibition in 1980 and have built a lively friendship over the years. Since that time, each has become well known in his own right -- and widely exhibited, but the pair only has been collaborating for about twelve years. "What connects us," says Kuhn, "is a respect for the creative spirit. Paul sees God's artwork in nature, and I surround it with light."
Long heralded as the nation's premier fair for outstanding contemporary decorative arts and design, the 13th International Sculpture Objects & Functional Art Fair in New York City will open on the evening of Thursday, April 15 and run through Monday, April 19, 2010 at the Park Avenue Armory. The event will include a lecture by Stankard and Kuhn, during which they will talk about their long friendship and their unusual artistic collaboration.
Jon Kuhn and Paul J Stankard are both represented by Chicago's Ken Saunders Gallery, one of America's foremost galleries for contemporary glass sculpture.
Contact:
Ken Saunders
Ken Saunders Gallery
230 West Superior Street
Chicago, IL 60654
312-573-1400
gallery(at)kensaundersgallery(dot)com
###