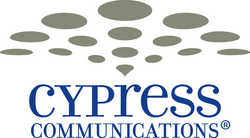 Critical Capabilities for Unified Communications as a Service
Atlanta (Vocus) April 14, 2010
Cypress Communications®, a leading provider of hosted unified communications and hosted VoIP solutions, has been included in Gartner's "Critical Capabilities for Unified Communications as a Service" report. The research evaluates and scores Unified Communications as a Service (UCaaS) solutions based on 8 critical capabilities: fixed and mobile telephony with unified communications, messaging, audio and web conferencing, video conferencing, presence/IM, multitenant, as well as service and support. Cypress' hosted unified communications solution, C4 IP®, is reviewed in the report.
"To be included in Gartner research is the aspiration of many technology companies, so we are elated by Cypress' inclusion in Gartner's UCaaS critical capabilities research. Cypress has proven the validity of the UCaaS approach to communications with our 25-year legacy of providing enterprises with managed and hosted telephony, and we believe our inclusion in this most recent industry research bolsters our vision of innovating ahead of our competition. We'll continue to implement on our ambitious and pioneering product roadmap, changing the face of the UCaaS industry and further enhancing our market position," said Frank Grillo, executive vice president of marketing and customer support at Cypress Communications.
"Many Gartner clients are considering UC [unified communications] as a way to improve employee productivity and reduce operating costs. UC achieves this in many ways, including reducing latency in business processes, improving the quality of the work product, enhancing recovery capabilities and improving collaboration," according to Gartner, Inc., "Critical Capabilities for Unified Communications as a Service," authored by Bern Elliot, VP distinguished analyst and Daniel O'Connell, research director.
"However, with the advent of cloud computing and new business models, providers now have the ability to offer UCaaS. With UCaaS, the provider owns, manages and hosts the UC infrastructure in its facilities. Users then pay subscription fees for UC services, as opposed to making capital investments for on-premises-based infrastructure. The economic downturn has also helped fuel user interest in UCaaS, as businesses have fewer IT capital expenditure funds," Elliott and O'Connell add.
Cypress' flagship UCaaS solution, C4 IP, comes complete with everything users need—from the network to the applications and phones—for a single monthly cost. There's no upfront capital investment, no need to hire and train additional IT staff and no worries of technological obsolescence. These benefits combine to make Cypress' C4 IP hosted unified communications solution an attractive option for companies looking to implement better communications technology amid tight budgets inherent in the current economic climate.
C4 IP delivers integrated telephony and data services alongside a comprehensive suite of collaboration tools, including best-of-breed IP phones, single-number/find-me, soft clients, unified messaging, video calling, audio and web conferencing, desktop sharing, presence, chat and more. Delivered through Cypress' robust MPLS-based network cloud and managed from the network, across the LAN, and all the way to the desktop, C4 IP helps more than 60,000 users across the U.S. connect, communicate, collaborate and continue® working productively in the face of any situation.
To be included in the UCaaS Critical Capabilities research, a provider must support the UCaaS delivery model, have significant North American market presence, meet minimum revenue criteria and experience supporting accounts with more than 1,000 employees. The provider UCaaS solution must demonstrate unified integration, including voice capability and at least two of the following features: conferencing, messaging or presence/IM.
About Cypress Communications
For over 25 years, Cypress Communications has been helping small-to-medium enterprises (SMEs) connect, communicate, collaborate and continue® with a range of fully hosted and managed voice, data and Internet solutions. Beginning in 2006, Cypress revolutionized the communications industry with its hosted VoIP and hosted unified communications solution, C4 IP, making it easy for SMEs to take advantage of productivity-enhancing technology such as integrated audio and web conferencing, multimedia collaboration tools, presence, chat, Microsoft® Outlook integration, and more. As a Deloitte Fast 50 and Fast 500 award recipient, Cypress is recognized as one of the fastest growing telecommunication companies in North America. In 2008, the company was also named one of Atlanta's Best Places to Work. Cypress and the company's unified communication solutions have received more than 25 awards for excellence and innovation to date. The company's web address is http://www.cypresscom.net.
For more information, contact:
Heather Whitt Roberts
Cypress Communications
404-442-0034
hwhitt(at)cypresscom(dot)net
© 2006-2010 Cypress Communications, Inc. The Cypress Communications logo is a registered service mark of Cypress Communications, Inc. C4 IP and Connect. Communicate. Collaborate and Continue are registered trademarks of Cypress Communications. All other marks used herein are the property of their respective owners.
###