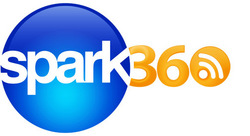 spark360 Senior Producer Steven Swaim added, "The Cobalt story is an ideal candidate for a spark360 feature. Adam and his team have created a new category of service business in the highly competitive commercial real estate, proving that there is always r
Dallas, TX (PRWEB) April 13, 2010
The responsibility of maintaining nearly 3 million square feet of shopping malls for a major commercial  development firm apparently wasn't enough of a challenge for Adam Teckman. Frustrations in trying to find the right crews to clean, landscape and provide repairs for those properties eventually got to him.
"So I just decided I would go do it myself," said Teckman.
That's how Cobalt Real Estate Services was born, and its the focus of the latest spark360 "Social Business Television" program – the new storytelling blend of traditional and social media for America's small/medium-sized businesses and entrepreneurs.
Teckman traded his white collar for a (cobalt) blue one so he could co-found Cobalt, a company that provides a host of large commercial property maintenance services including parking lot sweeping/striping, pressure washing, trash pickup, electrical/mechanical work and landscaping. Cobalt bases its services on-site so it can provide 24/7 response to a property's needs. And while there are many small, independent vendors competing with Cobalt in each area of service it provides, Teckman says by consolidating their needs with his one-stop-shop company, large property owners can better meet the challenges of the current economic environment.
"We can look at your entire portfolio and analyze what you're spending and say, 'You know what? We can cut percentages off of each one of these services if you let me do everything.' And that's the whole idea of consolidating with me," Teckman said.
spark360 follows Teckman as he climbs into the cab of one of his company's brand-new sweeper trucks and makes his rounds in the parking lot of a North Dallas shopping center. The Cobalt president/co-founder admits trading his air-conditioned office and secure job for a truck – and a new title of "entrepreneur" – was a risky move. "To go from behind the desk to behind the wheel of a sweeper truck is definitely a change in pace, and certainly a change in life," he said. "But you know, it's exciting for me. I really like what I'm doing because I understand the value in it for people. I understand why they need me there and I think that's satisfying – to know that I'm able to be someone's solution for their problem."
"Adam was working at one of the top commercial development firms in the Southwest, started by a Hall of Fame quarterback, and was dealing with anchor stores with names we all know – SuperTarget, Lowe's, J.C. Penney's," said spark360 host/managing editor Renay San Miguel. "He gave all that up to pursue his entreprenurial dream and chase a new idea for a specific business niche. This is exactly the kind of story we love to tell at spark360."
spark360 Senior Producer Steven Swaim added, "The Cobalt story is an ideal candidate for a spark360 feature. Adam and his team have created a new category of service business in the highly competitive commercial real estate, proving that there is always room for entrepreneurial innovation."
About spark360
spark360 is a Web-based business television program that celebrates the spark of entrepreneurship in America by featuring the unique stories of small and middle-market businesses.
spark360 also provides a credible and relevant outlet to get your story to a global marketplace through our exclusive 360 Distribution social media platform. spark360 delivers broadcast-quality, network news-style programs via a comprehensive SEO-optimized "full circle" distribution strategy that reaches every corner of the Internet.spark360 is a division of Splash Media, L.P. http://www.spark360.tv
For media inquiries for spark360, please contact: Steven Swaim sswaim(at)spark360(dot)tv
About Splash Media
Splash Media L.P., based in Addison, Texas, creates and develops custom web-based communications and training solutions that are powered by video. We specialize in developing video communications strategies and video delivery platforms that drive our customer's bottom line. Splash Media is a leader in the Enterprise Video Communications industry and has been delivering Internet enabled strategic video solutions since 2004. http://www.splashmedia.com
For media inquiries for Splash Media, please contact: Chris Kraft ckraft(at)splashmedia(dot)com
# # #