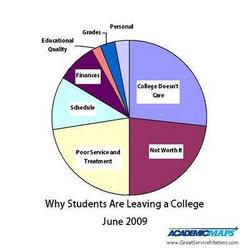 Columbus, OH (Vocus) April 13, 2010
Colleges, universities and community colleges are having budget problems. But they are the own worst enemies making some very anti-student, anti-customer decisions. Why? Because they view the budget too often as if it only had one solution to a drop in revenues – cutting or taking action such as significant tuition and fee hikes that will cause pain for students so they will write to legislators to demand more money. And they will not accept that students are their customers.
This is not just wrong it is an unethical breaking of trust that has led to today's society's increasing lack of support for higher education administration as discussed in the recent Public Agenda report Squeeze Play 2010: Continues Public Anxiety on Cost, Harsher Judgments on How Colleges Are Run. The public believes colleges and universities have enough money to operate and serve their sons and daughters. But are not doing so.
People whose personal budgets have been cut to shreds do not have much compassion for constant tuition increases or college presidents whose salaries have climbed steadily even as individual incomes have moved backwards or been fully eliminated. Or for some faculty who complain of heavy workloads of between zero to five classes a week, so they have time to be reading and doing research with summers off while the people who pay for college struggle to make ends meet.
Colleges and universities must start realizing they need to focus not on what they care about for themselves but what the public cares about if they wish to regain public support and revenue. And the public is concerned that their sons, daughters, husband and wives can get the education needed to get and keep a job. They want full academic customer service which includes the courses they need, enough sections for them to be able to get the programs they need completed, qualified faculty in the classroom, the services they need when and where they need them and people that care about their success. They want to feel that they are at least as important as any research a faculty member is working on. That they are being treated as if they had value, integrity and importance. They want to feel that the institution is there for their success.
Colleges Lose BILLIONS in Attrition Interestingly enough if colleges and universities actually did focus more on student success most all of them would make long strides toward solving their budgetary shortfalls.
Not because the public would suddenly want to give them more money. That is not going to happen. The schools will help curtail budget cutting by focusing on student success because student achievement leads to increased revenue. Increasing revenue looks to a more positive view of the budgeting process and institutional success through increasing revenue to the bottom line. The more institutions provide academic customer services that meet student needs and demand as discussed earlier, the greater will be the number of students who will stay in school through graduation. The more a college increases student retention, the greater the positive revenue flow.
It is as easy as that. Increased student academic customer services leads to greater student success which in turn will increase retention yielding greater institutional fiscal success. If a college gets $20,000 a year in tuition and improves its retention by 100 students that will lead to an additional $2 million. And 100 more students will stay in school, graduate and lead better lives; just as a university or college says it will help them do.
As a nation, the US loses over $4 BILLION a year from student attrition. So conversely, if the nation were to improve its attrition rate, it could save over $4 BILLION in lost tuition revenue. This would in turn pour rather significant amounts of dollars into individual college and university budgets. That would mean thousands of additional graduates a year too. Graduates who could be taught in classes much smaller than 90 and by quite possibly by qualified, professionals. This should lead to greater student success which we would see in higher graduation rates and a strengthened economy rather than bad loans, defaults and ruined credit and futures.
How could we increase student retention and success? Start by engaging students better by instituting much better academic customer service for students. 84% of students quit school for customer service-related issues such as "colleges not caring about me" as shown by fewer sections, bulging class sizes, canceled sections, campuses needing upkeep or maintenance, and reduced services in general. Realize that the second major reason students leave a college is receiving poor direct service and treatment. When more services and the people who normally help students are cut, morale and basic customer service also drop. Students feel this and leave as a result.
It is AcademicMAPS' position that colleges should pay more attention to academic customer service. This would increase student retention and graduation, revenue into the budget and the public's support of higher education.
AcademicMAPS has been the number one provider of academic customer service that increases student retention and institutional revenue, morale and success since 1999. Dr. Neal Raisman's fourth book The Power of Retention: More Customer Service in Higher Education is the best-selling book on customer service in colleges, universities and businesses that service them in the US, Canada and Europe.. His blog Great Service Matters is read by over 16,000.
For more information on academic customer service, student retention and the services AcademicMAPS provides contact 413-219-6939 or email at info(at)GreatServiceMatters(dot)com.
###