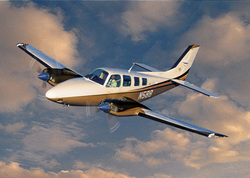 the service is cheap compared to traditional jet charter - We like to call our aircraft...time machines
Houston, TX (PRWEB) April 13, 2010
A new air taxi service has touched down at Ellington Field in Houston, Texas, offering on-demand flights to hundreds of small-town airports in Texas, Louisiana, Oklahoma and Arkansas.
Freedom Air Charter (freedomaircharter.com) dba Freedom Air Taxi of Houston, Texas, will put two of its five-passenger Beechcraft Baron 58 twin-engine propeller planes in the Lone Star State, including one at Brazoria County Airport (KLBX) and one at Ellington Field (Ellington Airport) KEFD.
Starting this month, Houston area residents can hire Freedom Air Charter to fly them from Ellington Field, Houston-Clearlake or nearly a dozen other general aviation airports in the Houston metro area.
The service is cheap compared to traditional jet charters. It targets busy professionals on business trips. Freedom Air Charter charges a straight $495 per hour, although that can drop to $475 hourly for buying multiple hours of flight time.
The meter runs only for the duration of each one-way flight. Up to five passengers can ride for the hourly price.
Air taxis aim for a narrow niche: business travelers looking for something more convenient than airlines but far cheaper than chartering a jet for thousands of dollars. They often live in or travel to small towns with limited airline service.
"Freedom Air Charters lures away many that used to drive, either hitting several cities in a week or on grueling day trips," states Lea Bentley, Communications Officer for Freedom Air Charter. The 1-year-old company flies about 65 passengers a month.
"The oil and gas guys love us," said Chris Castillo CEO and Chief Pilot for Freedom Air Charters, "we can get our passengers to the work site before lunch and back home before dinner, we like to call our aircraft time machines"
Some aviation experts predict the air taxi business is about to take off as the commercial airlines increase their fees for services. Once people learn about the convenience of Freedom Air Charter and compare the rates to those of commercial airlines, customers realize the benefits of having their own personal airline to directly meet their needs.
For more information or a free quote visit Freedom Air Charters at http://www.freedomaircharter.com or call 1-866-950-9001
###