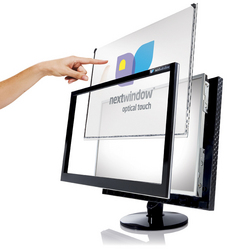 Pleasanton, CA (Vocus) April 13, 2010
NextWindow, the leading provider of optical touch screens to manufacturers of desktop PCs, computer monitors and large-format displays, today announced its intent to exhibit at the Interactive Displays 2010 conference this month. The event is scheduled for April 20–22 at the Sainte Claire Hotel in San Jose, California. NextWindow will demonstrate the latest optical touch screen technology for desktop and large-format applications in booth #5.
It's been nearly six months since Microsoft launched Windows 7, which enabled the rapid growth of touch-enabled PCs. NextWindow has been at the center of this exciting development. Since October, PC makers Dell, Hewlett-Packard, Lenovo, Medion, NEC, Samsung and Sony have introduced more than 14 NextWindow-powered products, making NextWindow the most successful manufacturer of touch screens for desktop-based devices. NextWindow's rapid growth coincides with the latest data from industry analysts. According to analyst firm DisplaySearch, the touch screen market will reach $6.4 billion by 2013.
Now in its second year, Interactive Displays 2010 brings together the interactivity community to discover advances in touch screen hardware, software and components. The event is attended by the world's leading manufacturers of touch technology sensors, gesture interfaces, display components and consumer electronics products as well as academics and consultants. Over 100 industry leading companies are represented this year including Audi, Boeing, Lockheed Martin, Motorola, Qualcomm, Sony and Volkswagen. Interactive Displays 2010 is co-chaired by Jeff Han of Perceptive Pixel and Steven Bathiche of Microsoft.
About NextWindow
NextWindow is a leader in touch-screen technology and a major manufacturer of optical multi-touch screens for OEMs, ODMs and resellers. With highly accurate, cost-effective solutions designed for personal and business use, NextWindow provides the hardware necessary to bring touch-screen technology to life—giving software designers the freedom to create exciting and intuitive applications. Founded in 2000, NextWindow is privately held with offices in New Zealand, Taiwan, USA, Singapore and Korea, with manufacturing facilities throughout Asia. More information about NextWindow is available at http://www.nextwindow.com.
Company contact:
David Villarina, NextWindow
+1 (925) 272-4530
###