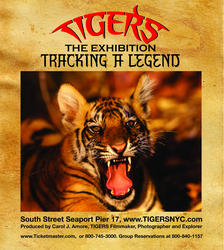 "I want everyone to feel what I felt when I was in India on the back of an elephant tracking Bacchi and her cubs. The experience we've created at South Street Seaport takes you into that world of sights, smells, sounds and images," says Carol Amore
New York, NY (PRWEB) April 14, 2010
"Wildly authentic, incredibly intriguing TIGERS-Tracking a Legend has the visual and interactive magnetism to draw you into the tiger's world to experience all its senses as the prime predator in the Indian jungle. Immersed in Tiger Territory, you explore the 20 Ways To Track A Tiger with non-stop fun and fascination. Tigers are extremely endangered and we would be tragically diminished should they disappear. Their legend lives on in this landmark exhibition." Glenn Close, Actress and Producer
For the first-time ever in New York City, TIGERS THE EXHIBITION: Tracking A Legend, opens on April 24, 2010 on Pier 17 at the South Street Seaport. An exhilarating, high-tech, hands-on exploration into the compelling world of the awe-inspiring tiger and its habitat, the exhibition immerses visitors in an interactive, sensory stimulating, fun adventure that will change the way you see tigers forever, and leave a lasting impression on people of all ages. Exhibit information and tickets are available at http://www.TIGERSNYC.com or http://www.Ticketmaster.com (1-800-745-3000 ) For Group Reservations call 1-800-840-1157.
With only 3,500 tigers remaining in the wild, photographer, filmmaker and author Carol Amore is passionate about introducing people to the secret and intimate lives of Bengal tigers in order to help save the species, their habitat and their prey. Through the engrossing story of a wild tigress and her cubs visitors experience their world, and are taken into a rich and breath-taking environment of multi-tiered activities and engaging sensory technologies, where we recognize the crucial and momentous role of preventing their extinction.
"I want everyone to feel what I felt when I was in India on the back of an elephant tracking Bacchi and her cubs. The experience we've created at South Street Seaport takes you into that world of sights, smells, sounds and images of one of the most beautiful and threatened animals on the planet. You leave with lasting memories and the knowledge that each of us can do something to save these magnificent cats – each and every one of us – and how we can help," says Carol Amore.
TIGERS transforms the top third floor atrium of the South Street Seaport's Pier 17, overlooking the East River, into an interactive, state-of-the-art, Indian jungle. Working with Mayor Bloomberg and his office, all schools within New York City and its surrounding states will be encouraged to attend the exhibition as part of their biology, ecology and life science studies. The Girl and Boy Scouts can earn their wildlife and endangered species patches towards their merit badges from the learning experiences at the TIGERS exhibition.
As just a part of the journey into the tiger's habitat, visitors experience and participate in activities including:

TIGERS – Tracking A Legend (Award-Winning 60 minute High Definition Wildlife Documentary): Join a Mahavat (tiger tracker) and his son on their trusted elephant as they venture into a wild paradise for an intimate look at a Bengal tigress and her cubs. Filmed in India's Bandhavgarh Tiger Reserve, this story traces the lives of a wild tigress named Bachhi and her two young cubs, Badi and Choti. As they grow, the cubs will face a variety of threats from cobras and pythons, to sloth bears and leopards, and even other tigers. In the surrounding forest, another drama unfolds: Charger, an old dominant male tiger, is being challenged by his son Banda. As viewers of this extraordinary film witness dramatic stories play out, they'll also learn how to track tigers. They'll witness the rivalry between male tigers for territorial dominance. And they'll watch as Bachhi's cubs grow up, exhibiting very different personalities, using unique calls to communicate with their mother.
The Making of TIGERS – Tracking A Legend: Shows the on-location filming adventures ranging from balancing cameras on elephant, and working with tripods 10 feet above the ground, to tracking a wild tigress and her two cubs as part of the crew's everyday life in the forest. Long days and extreme heat were part of the challenges as well as having poisonous snakes visit the filmmakers jungle hideaways.
Electronic Digi-Track Climbing Wall for All Ages: Explore and engage in interactive games using all your senses. Indian wildlife sounds & moving lights hand grips offer different games and degrees of difficulty for varying ages and abilities. Encourage teamwork and fun through physical fitness/coordination and inspire family & individual motivation by reaching your game challenge goals.
Talk like a Tiger Interactive: Listen and imitate the unique sounds of tiger cubs, the tigress and male tigers and get immediate feedback on how well you matched the sound by spectrogram graphs showing the vocalizations..
Carnivore Capture- Jaws and Claws & Canine Bite Force: Experience the Tiger's Hunt through a dynamic touch sensory joystick link to animated HD simulation. Canine Bite Force invites visitors to hold onto a racer's steering wheel and feel the resistance of eight different carnivore canine bite forces.
Inside the Tiger Exhibit: Explore the tiger's head, heart, chest and abdomen by viewing rare "CAT" scans on a sliding monitor. Compare a tiger's anatomy to a human's anatomy.
Tiger's Cave and Conservation: Discover a day in the life of a tigress and her two cubs and learn 20 Ways to Save Wild Tigers.
20 Ways To Track A Tiger/Tracker Stamp Station: Find six special stamp stations on your mission to find the tigress and her two cubs. Learn how to look for tiger claw marks, smell the scent of a tiger, explore a tigers cave, predict the travels of the tigress and her cubs and much more!
TIGERS is approved by Girl and Boy Scout leadership to provide Scout patches towards merit badges. Open daily from Friday-Saturday 10:00am-9:00pm(last entry at 8:00pm) Sunday- Thursday 10:00am-8:00pm (last entry at 7:00pm). Tickets prices range from $12-$17 with group discounts available. Family Packages are available (2 Adults & 2 Children) $46 ($48 weekends). Plan ahead and preorder TIGERS patches, DVDs and books. The exhibition runs from April 24 through January 15, 2011.
.Exhibit information and tickets are available at http://www.TIGERSNYC.com or http://www.Ticketmaster.com (1-800-745-3000 ) For Group Reservations call 1-800-840-1157
Follow us on Twitter@TigersNYC and on Facebook at http://www.facebook.com/tigersnyc
Follow us on Twitter @TigersNYC and on Facebook at http://tinyurl.com/y2t78p7 !
To arrange media interviews contact:
Barbara Pflughaupt, Barbara(at)bpmediarelations(dot)com 212-707-8181
Jennie Rosenberg, Jennie(at)bpmediarelations(dot)com 917-520-7067
###