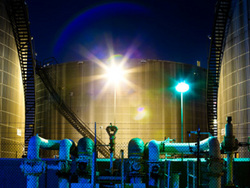 We're very happy to see the Administration make decisions to strengthen energy production internally
(Vocus) April 14, 2010
Liquid gold surges just below the surface of Navarro County, Texas, bringing heavy investors to the Lone Star State. Exxon Mobil Production Company has already announced plans to begin drilling sometime during the first quarter of 2010, and other companies are following suit. Just a hundred miles away - a mere trickle in terms of underground oil reservoirs - Max Tech Oil likewise plans to tap the resource, a plan that has investors smiling wide. The area, formerly owned by Exxon Mobil in the early 1920s, is speculated to have the equivalent of over forty million barrels of oil, enough substance to fuel over one million Texas households for an entire year. Max Tech Oil has acquired the IT Kent project from Black Gold International, taking exclusive control of the project's capitalization process. Max Tech is working through the capitalization process in conjunction with the field operation experience of Trinidad Oil and Gas Corporation, a bonded Texas oil and gas field operating company thereby providing a deep foundation of experience which the investors can be very confident.
Underground oil oceans are nothing new to Texas residents. The East Texas Oil Field, the state's oldest and largest reservoir, spans five counties, covering just over 140,000 acres. The area is just as rich in history as it is in oil, being home to over 30,000 historic and active wells. Outside of Alaska, the oil field is the largest of its kind in the United States, holding the number one spot for oil production since the 1930s. Everything's bigger in Texas, including the availability of a once labeled scarce natural resource.
Additionally, the IT Kent lease is part of the Powell Field, the second most prolific Woodbine Field in Eastern Texas. The fact that the reservoir is a Woodbine Field is yet another reason for investors to smile. Woodbine Fields are categorized by a gas-injection technology expected to increase the field's life by about 25 years. Though the gas injection technology's impact various by project, it nonetheless represents a significant advantage over other projects because of the longevity it affords oil wells.
Projects like the IT Kent Lease are affected largely by a country's political landscape, and recent Obama Administration news has left a very positive impact. The Administration's lifting of the decades old ban on offshore drilling has the energy industry buzzing emphatically. Opportunity is being realized on macro and micro levels, with benefits shared by large-scale corporations and individual investors alike. For most, that benefit is the opportunity to prosper.
Benefits enjoyed by oil corporations trickle down to individual Americans as well, the lift on offshore drilling providing great opportunity for investment. According to the Wall Street Journal, offshore drilling companies like Diamond Offshore Drilling and Transocean have already seen an energetic 4% gain in the short time since the announcement was made. Other companies have likewise seen anxious investors push their numbers into the green, indicating substantial investor confidence.
With the capitalization of the IT Kent Lease Project underway, Max Tech Oil shares industry elation with the President's recent announcement, stating the news has investors eager to get involved. "We're very happy to see the Administration make decisions to strengthen energy production internally," reports Max Tech Oil executive Michael Cohen. "We've seen President Obama's action have a ripple effect throughout the industry. Investor confidence is up. We're even seeing peaked interest in our oil and gas projects on land."
With unparalleled attention to individual investors, Max Tech's mission is to seek and purchase undervalued oil and gas properties, as exemplified by their recent acquisition of the IT Kent Lease project in Texas. With building confidence in the oil and gas industry and the current Administration's aim to increase domestic oil production, speculative ventures like those hosted by Max Tech are expected to earn considerable returns for investors. The company utilizes three-dimensional Seismic Imaging to determine projects with low risk and high return for investors. As an independent oil and gas company, Max Tech is in an ideal position to capitalize on rising commodity prices and the global demand for oil and gas reserves. The company gains valuable insight from state-of-the-art technology and their experienced team of geologists. The Max Tech Oil management team continues to develop and fund successful ventures for individual investor partners, with whom the company maintains excellent long-term relationships. Visit Max Tech Oil's website to learn more about this project at http://www.MaxTechOil.com.
###