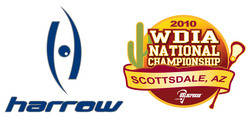 Harrow is a proud supporter of lacrosse-from the youth to the professional level-and the WDIA allows the athletes to experience the wonderful spirit and competition of a college National Championship
Denver, CO (Vocus) April 14, 2010
Harrow Sports, a Denver-based manufacturer of athletic equipment and apparel, announced a three-year commitment to the sponsorship of U.S. Lacrosse's Intercollegiate Associates (WDIA) Division I and II National Championships. The WDIA Championship Tournament showcases the Nation's top 16 Division I Women's Intercollegiate Associates Lacrosse teams. Starting this spring, the WDIA Championships will also feature a Division II Championship Tournament. The inaugural tournament will consist of eight teams from the Division II section of WDIA schools chosen through an at-large selection process.
"Harrow is a proud supporter of lacrosse-from the youth to the professional level-and the WDIA allows the athletes to experience the wonderful spirit and competition of a college National Championship," stated Harrow CEO Mark Hayden.
Virginia Tech defeated University of Colorado 17-9 in the 2009 WDIA Finals, and the 2010 field once again looks strong. The 2010 Championships will be played May 5-8th at the Scottsdale Sports Complex in Scottsdale, Arizona. U.S. Lacrosse will host and manage the event. Please visit the event page at US Lacrosse for current WDIA rankings and more information about the tournament.
About Harrow Sports:
Harrow Sports is a recognized leader in high performance composite technology for sports equipment. Since its inception, Harrow has led the industry in game changing composites in squash, lacrosse, ice hockey and field hockey. For more information please visit Harrow Sports.
For further information contact:
Mark Hayden
Tel: 203-742-6060
###