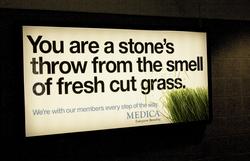 Minneapolis, MN (PRWEB) April 15, 2010
Global brand and reputation firm LEVEL has teamed with Medica for a home-run advertising campaign celebrating the new Twins stadium and the rebirth of outdoor baseball in the Twin Cities.
The campaign demonstrates that Medica is part of the fabric of the community and Minnesota at large, showcasing Medica's commitment to the health and well-being of its members. It includes fun messages such as, "You are 690 feet from the smell of fresh cut grass," and "You are four blocks from a good stretch."
The welcoming reminders have high-visible placement in the skyways and elevators leading to Target Field as well as at the Mall of America transit station and the light rail sign at First Avenue.
"This creative campaign was designed to celebrate outdoor baseball and recognize Medica's commitment to its members and local communities. We wanted to hit the ball out of the park and create enthusiasm as fans from across the state get closer and closer to the new stadium," said Kim Thelen, LEVEL's vice president of strategic planning and client service.
The new advertising campaign is up today in time for the Twins home opener, and can be enjoyed by anyone entering the new Target Field from the skyways or the light rail. In addition, the local media effort will also include radio and online ads as well as spots on FOX Sports North TV.
LEVEL has also recently worked with Medica to support Main Street Medica Mobile, the first iPhone application used by a major health plan, which enables consumers to access health care cost information from their mobile device.
To see the new campaign, please visit http://www.levelbrand.com.
About LEVEL
LEVEL is a global brand and reputation firm headquartered in Minneapolis. LEVEL was founded 20 years ago by John Foley, CEO and author of Balanced Brand, How to Balance the Stakeholder Forces that can Make or Break Your Business. For further information about LEVEL visit http://www.levelbrand.com or call (612) 338-8000.
# # #