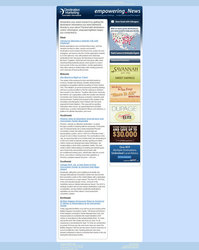 "empowerMINT's newsletter is an excellent promotional vehicle, and with future editions, we intend to cast a spotlight on destination profiles of note," said Christine "Shimo" Shimasaki, managing director of empowerMINT.
Washington, DC (PRWEB) April 13, 2010
empowerMINT.com, a website for convention and visitors bureaus (CVBs) nationwide, has launched empoweringNews, an email newsletter. empowerMINT announced that it will distribute empoweringNews bi-monthly to highlight different regions' CVBs and meeting facilities. Designed by the Destination Marketing Association International (DMAI) to drive RFPs to destination marketing organizations (DMOs) and promote their destinations and meeting space, empowerMINT is home to destination profile pages for more than a hundred such CVBs nationwide. empoweringNews will inform recipients of important information pertaining to meetings in the Northeast, West, Midwest, Southwest and Southeast regions of the United States, as well as Canada and Puerto Rico.
"We are pleased to launch empoweringNews, " said Christine "Shimo" Shimasaki, managing director of empowerMINT. "empowerMINT's newsletter is an excellent promotional vehicle, and with future editions, we intend to cast a spotlight on destination profiles of note. We highly encourage DMOs to contact us and find out how they can place their destination in the spotlight."
Planners who are seeking information on CVBs and their destinations can easily find it at empowerMINT, where content is visible to all visitors. Furthermore, empowerMINT simplifies searching and comparing destination information and greatly facilitates exporting it to a Microsoft Excel spreadsheet or connecting with a destination expert for assistance. Meeting planners can create one RFP, select multiple destinations and receive unlimited local information from destinations' experts, who offer valuable advice on local hotels and venues.
In addition, meeting planners may complete free registration at empowerMINT and automatically become recipients of empoweringNews. (Opting out of the distribution is simple and intuitive.) Registrants on empowerMINT may create a password profile and use information across the network of DMOs and CVBs that feature the empowerMINT.com program on their own destination websites. The registrant therefore avoids having to re-enter contact information and saved RFPs. Furthermore, registering a profile on empowerMINT provides meeting planners with free access to their meetings' post-event reports serviced by empowerMINT's DMOs and CVB.
empowerMINT features several additional functionalities highly useful to anyone seeking a centralized repository of dynamic information on CVBs nationwide. Every destination profile on empowerMINT, for instance, includes up-to-date photos of the destination; a link to an article about the destination; a distillation of the top reasons to visit that destination; key information on surrounding airports and hotels; and a link to send an RFP. Additionally, meeting planners may search and compare CVBs to identify a venue not only according to the location they intend to target, but also according to several additional criteria: exhibit gross square feet, meeting space, peak sleeping rooms, meeting rooms, permanent seating and minimum largest ballroom space, as well as pertinent characteristics of nearby hotels and airports.
A page behind every main destination page on empowerMINT lists the key contact information of multiple destination marketing experts associated with the corresponding city or region. Furthermore, a downloadable Microsoft Excel file, which accompanies every destination profile, includes an additional key contact's phone number and e-mail address alongside a neatly organized summary of key information regarding that destination.
About empowerMINT.com
Often non-profit or government agencies, official destination marketing organizations (DMOs)—sometimes called CVBs (convention and visitor bureaus) or tourism boards—promote the long-term development and marketing of a destination, focusing on convention sales, tourism marketing, and service. As a virtual, national sales office for the DMO industry, empowerMINT.com simplifies the search for these meeting destinations. Meeting planners can easily complete one RFP, select multiple destinations, and receive unlimited local advice from destination experts.
Since 1914, members of the Destination Marketing Association International (DMAI) have collaborated to generate meeting leads. The process of sharing this information has evolved as technology has advanced. At the first gatherings nearly 100 years ago, members passed around a box with note cards containing information about the meetings they had hosted. In 1985 the system went electronic, and INET was created. In the last two decades, milestones in technology have brought with them two transformations: The first was CINET; then came MINT. In 2009, the DMAI Board, the Sales & Marketing Advisory Council, the MINT Committee, and MINT subscribers tasked DMAI with creating an even more robust system to power additional lead generation and to engage customers directly—empowerMINT is the result.
Anyone interested in learning more about empowerMINT may contact the following individual:
Christine "Shimo" Shimasaki, Managing Director of empowerMINT.com
e-mail: shimo AT destinationmarketing DOT org
direct phone: 858-935-9179
###